The Dogecoin price shows no signs of recovering the losses it suffered last week when the crypto market succumbed to a sudden bout of selling. In fact, Dogecoin (DOGE/USD) looks likely to head back to last weeks low, and possibly even lower.
When Bitcoin (BTC/USD) lost 18% in a matter of hours last Tuesday, it sent shockwaves across the cryptocurrency complex. Ethereum (ETH/USD) dropped from $4000, to $3,000, and many altcoins lost more than 50% in value before recovering into the close. Since then, both BTC and ETH have managed to inch higher, and this morning Bitcoin is changing hands above $47,000, and Ethereum is attempting to break out above $3,400. However, Dogecoin has failed to improve on last Tuesday's closing price.
DOGE Price Forecast
Looking at the daily price chart, we see that DOGE is trading in a narrowing channel. A trend line from the June high, which forms the top edge of the formation, offers robust resistance at $0.3100. Since August, the trend line has proved unscalable and constantly rejected attempts to rally. On Monday of last week, the Dogecoin price looked close to clearing the trend resistance at $0.32.65. However, Tuesday's heavy liquidation sent the price tumbling lower by 30% to the lower edge of the pattern at $0.2100. After testing trend support, DOGE bounced 18% to finish the day d0n 18% at $0.2529.
But since then, the price has retraced back to the trend support. Furthermore, the light trading volume doesn't suggest buyers have stepped in to take advantage of the dip. And this is potentially bad news.
The trend support is currently seen at $0.2220 and should be viewed as a crucial threshold for DOGE. If the price closes below this level, it will constitute a break of the 2021 uptrend. This would undoubtedly lead to technical momentum selling, potentially sending the price back to the July lows around $0.1600.
However, for now, DOGE is clinging to the trend support. And as long as the price stays above the line, it has a chance to recover. Although, until Dogecoin clears the descending trend line resistance, it will trade with neutral to negative bias.
Dogecoin Price Chart (Daily)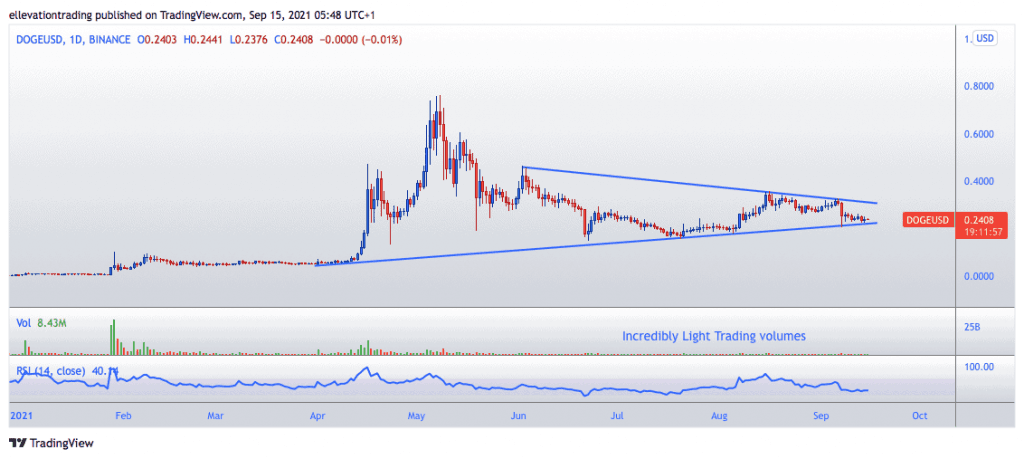 For more market insights, follow Elliott on Twitter.