Bullish Dogecoin price predictions have diminished after failing to get any uplift from last week's crypto market surge. Dogecoin was dwarfed by the record-breaking performance of its meme spinoff, Shiba Inu. Several Dogecoin-themed coins also participated in the rally. 
Apart from a slight spurt on 28 October, which met with intraday rejection, there has been no sign of the DOGE/USDT showing any recovery. Not even talk by Elon Musk himself of establishing a university and accepting tuition fees in Dogecoin, with DOGE owners getting a discount, was able to stir the pair into action.
As of writing on 1 November, Dogecoin was trailing by 3.0%.
Dogecoin Price Prediction
Having failed to clear the 200-day moving average, the dip in the DOGE/USDT has tested the support at 0.2643. If the bulls fail to defend this price level, 0.2195 becomes the new downside target. 0.1961 and 0.1634 are additional targets to the south if the correction continues.
Any upside Dogecoin price predictions have to follow a break of the 200-day moving average and the 0.3015 resistance mark to be actualized. This move opens the door for the bulls to attack the 0.3487 resistance before the resistance zone that forms between 0.3938 and 0.4392 comes into the picture. 
DOGE/USDT: Daily Chart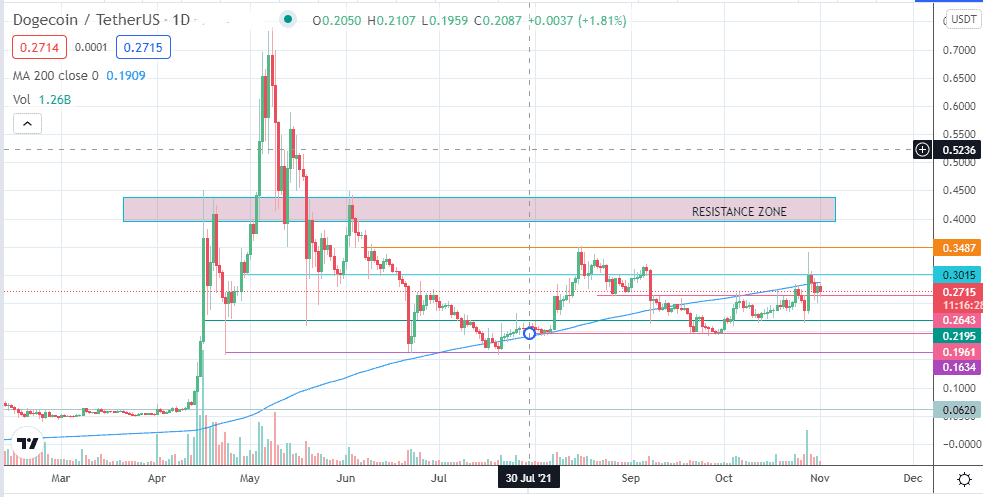 Follow Eno on Twitter.