The District0x price prediction has suddenly become a hot topic after a sudden weekend spike. On Sunday, DNT price gave 130% returns as the price pumped like there was no tomorrow. The sudden District0x pump has raised the speculations that a few whales could be behind this surprising move. Nevertheless, the massive increase in trading volume is suggesting that the bullish reversal could have already happened.
What is District0x?
Unlike most cryptocurrencies in the market, DNT crypto is not a new one. In fact, it was one of the most popular coins of 2017, and District0x price prediction went to $0.43 in January 2018. The corresponding market cap of District0x crypto also hit a whopping $250 million. However, the hype was short-lived, and the price crashed by almost 99% in the following years.
Latest District0x News
Before moving on to our District0x price prediction, let's look at its current status. Very few cryptocurrencies from the 2017 bull run could make a come-back in 2021. District0x was one of the few cryptos that broke their 2018 all-time high by making another ATH in 2021. District 0x price peaked at $0.48 in April 2021. This showed that the project is still relevant, to say the least. As per the latest District0x news, DNT price is trading at $0.136. It is currently sitting at a market cap of around $106 million.
District0x Price Prediction
DNTUSD technical analysis clearly shows a massive surge in trading volume since 3rd April 2022. On Sunday, the coin surged to $0.209 on some exchanges from the lows of $0.09. Currently, it is trading at $0.136, which is still 71% below its April 2021 all-time high. For our DNT price prediction, District0x crypto needs to close above the $0.22 level making a higher high.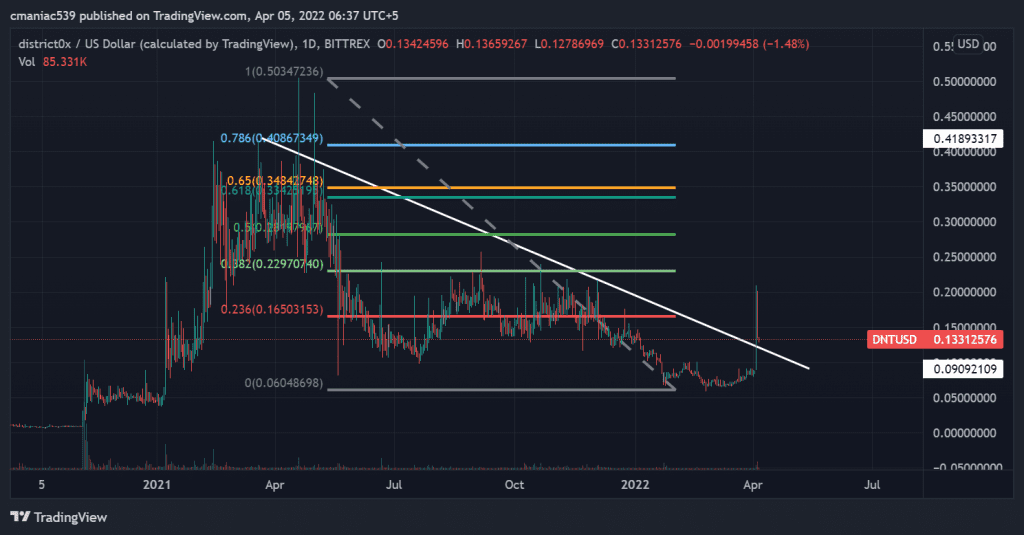 This higher high can give the bulls enough momentum to push the price to the $0.33 level in the mid-term. This could be a valid end-of-year target for District0x price prediction as this is also the 0.618 Fib level. This Fib level comes into play by connecting the April 2021 ATH of $0.48 and the recent low of $0.059.