This article discusses the Crypto.com Coin price performance, the current climate for cryptocurrencies and breaks down the CRO token chart.
Crypto.com is one of the few cryptocurrency projects to break into the mainstream in 2021. One of the channels in which Crypto.com is featuring prominently is in sports. The latest sports partnership signed by Crypto.com is with Los Angeles-based Angel City Football Club (ACFC), in furtherance of its series of investments with the entire sporting architecture of the city.
This is the first major partnership between a blockchain project and a professional women's sports team. By partnering with the ACFC as the official cryptocurrency and NFT partner, Crypto.com will help the team deepen its presence in the crypto space, help it launch and market its NFTs and also provide direct sponsorship of the team.
Crypto.com has also partnered with other sports organizations, such as the Ultimate Fighting Championship (UFC), Formula 1, French soccer club PSG and the eSports team Fnatic. Crypto.com also features in the goal-line technology replays of the Italian Serie A.
These sporting partnerships are now promoting awareness of the fast-growing Decentralized Finance platform among sports fans worldwide. More than 10 million customers have signed up to use the company's crypto trading and credit card services, providing substantial uplift for the platform's native CRO token. In November, Crypto.com Coin broke into the top ten list of cryptos when the price surged over 350% to $0.975, lifting the market cap to $24.5 billion. However, the cryptocurrency market has turned lower since then, taking the CRO with it. As a result, the price has almost halved in the last month, erasing around $12.4 billion in market cap.
CRO Price Forecast
The daily chart shows the Crypto.com Coin price is steadily trending lower. However, the rate of descent is slowing as we approach $0.500, suggesting that either the shorts are taking profit or longs are accumulating. Nonetheless, the downtrend reminds the dominant theme until CRO clears overhead resistance.
If the token convincingly clears the 50-Day Moving Average at $0.544, it should extend into the $0.600-$0.700 range. However, advancing beyond that point will depend on the overall health of the crypto market. Furthermore, failure to clear the 50-DMA could result in more downside slippage.
If the border market continues to trade with a bearish tone, a logical target for CRO is the 100-DMA at $0.363, which aligns with the December low. As I write, Bitcoin is attempting to break higher (+4.0%), which could encourage the Crypto.com Coin price to do the same. However, traders should remain cautious until CRO breaches the critical resistance levels.
Crypto.com Coin Price Chart (Daily)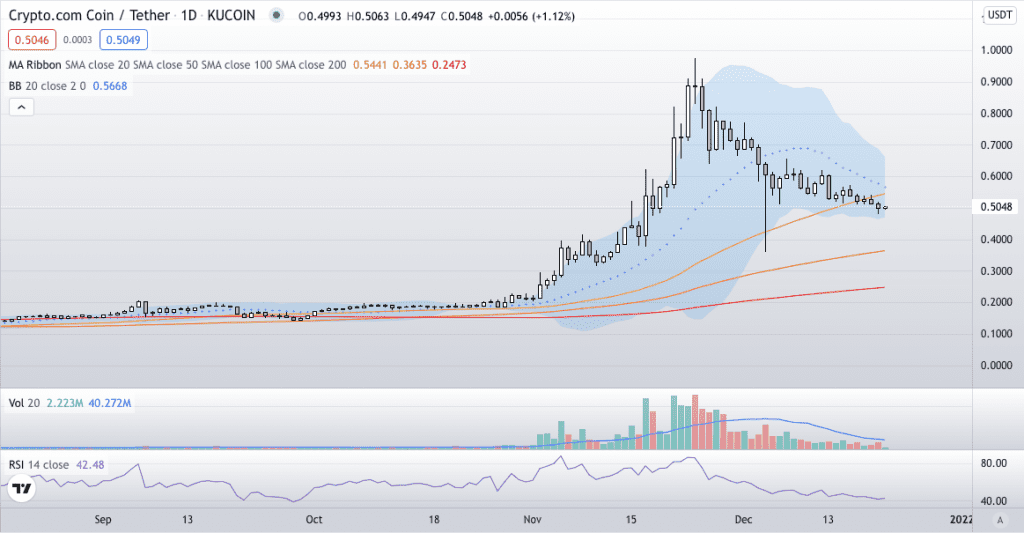 For more market insights, follow Elliott on Twitter.