Robinhood and Coinbase stock prices have been in a freefall in 2022 as stocks and cryptocurrencies collapse. HOOD has fared quite well, falling by ~30% while Coinbase's share price has collapsed by over 80%. Their market caps have collapsed, with Coinbase falling to $9.14 billion and Robinhood Markets falling to $8.26 billion.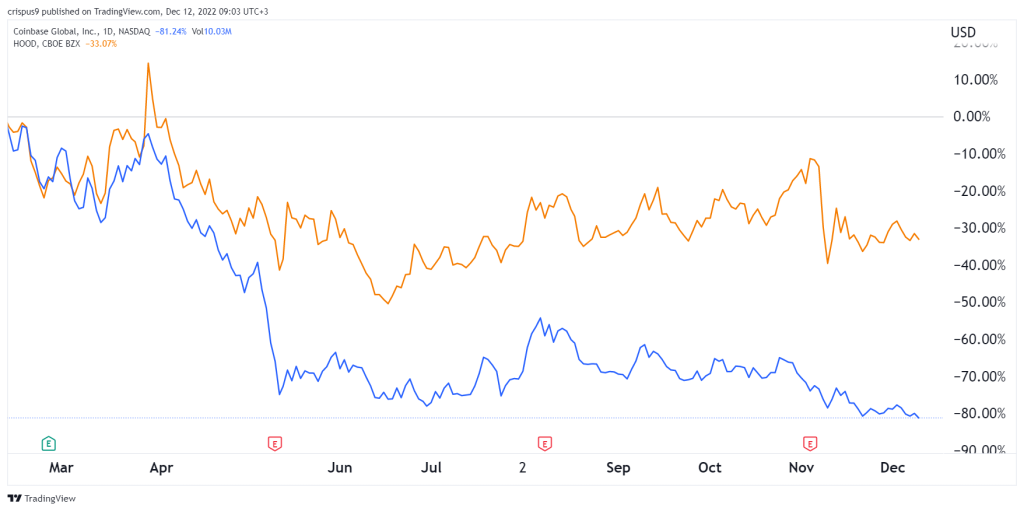 Robinhood vs Coinbase
COIN and HOOD have several similarities. They are both disruptors in the financial industry, with Robinhood having the most consequential impact. By introducing commission-free trading, it forced its competitors like Schwab and Fidelity to change their revenue model. It also introduced the concept of gamified trading.
Coinbase, on the other hand, disrupted the crypto investing industry. It introduced an easy-to-use trading platform for most cryptocurrencies. Most importantly, it introduced Coinbase One, a subscription product that provides users with $0 trading fees, $1 million account protection, and pre-filled form 8949. Its subscription business is the fastest-growing one in the industry.
Another similarity is that both Coinbase and Robinhood stock prices have been hit by the ongoing crypto sell-off. At its peak, Robinhood was a leading facilitator of crypto transactions. Still, the collapse of digital coins has been partially offset by the fact that its business is mostly made up of stock trading.
Coinbase stock price has actually collapsed to an all-time low. In addition to the crypto collapse, there have been contagion following the collapse of FTX. FTX was a big Robinhood investor.
HOOD vs COIN: Better buy?
So, with Robinhood and Coinbase stock prices hovering near their record lows, which is a better buy between the two stocks. For one, Coinbase has become a bigger bargain than Robinhood.
In my view, I believe that Robinhood is a better buy for several reasons. First, Robinhood has limited exposure to the crypto market. It makes most of its money from Payment for Order Flow (PFoF). This is a strategy where the company receives payments from market makers like Virtu Finance and Citadel Securities.
Further, Robinhood has several product launches that are set to act as a catalyst. For example, it is about to launch a crypto wallet where users will be able to buy and sell cryptocurrencies. Further, the company will benefit from its upcoming retirement accounts. It opened the waitlist for this product last week.
On the other hand, Coinbase is primarily a crypto company that has no other sources of cash. Now, as crypto prices collapse, there is a likelihood that its price will continue struggling.
Coinbase stock price dire formation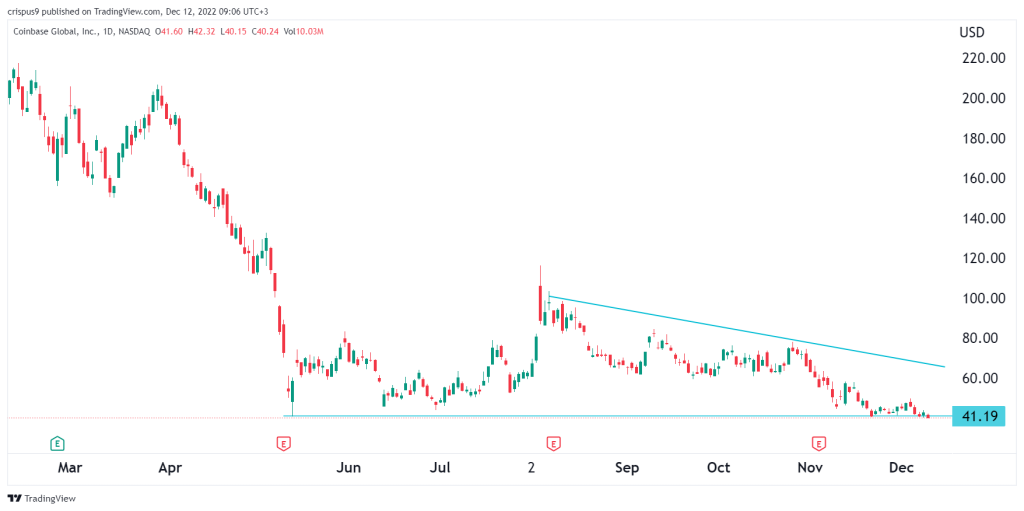 Turning to the daily chart, we see that the COIN stock price has formed a dire price action. It has crashed below the important support level at $41.20, where it struggled to move below this year. It remains below all moving averages and the descending trendline. It also moves below all moving averages. Therefore, the stock will likely have a bearish breakout as sellers target the key support at $30.