Robinhood share price crashed hard this week as concerns about the crypto industry worsened. HOOD stock price crashed to a low of $9.61, which was about 25% below the highest level this week. The fallen angel has fallen by 88% from its all-time high. As a result, the company's market cap has crashed to about $10 billion.
Is HOOD a good buy?
Robinhood is one of the biggest disruptors in the financial services industry. The company introduced the concept of commission-free trading, which has now been adopted by other brokers like Schwab and TD Ameritrade.
Robinhood stock price surged to an all-time high of $84.70 in 2021 as demand for its services soared. At the time, most people were trading stocks and cryptocurrencies amid high stimulus and low-interest rates. The situation changed this year as interest rates surged and stocks and cryptocurrencies dropped.
Robinhood published weak financial results last week. Its total revenue in the third quarter dropped by 1% to $361 million. The firm lost 10 cents per share even as it delivered a positive adjusted EBITDA profitability of $47 million.
Net funded accounts rose by 60k to 22.9 million while the number of monthly active users dropped by 1.8 million to 12.2 million. Its assets under custody rose by 1% to $65 billion. As shown below, the number of monthly users has been in a strong downward trend in the past quarters.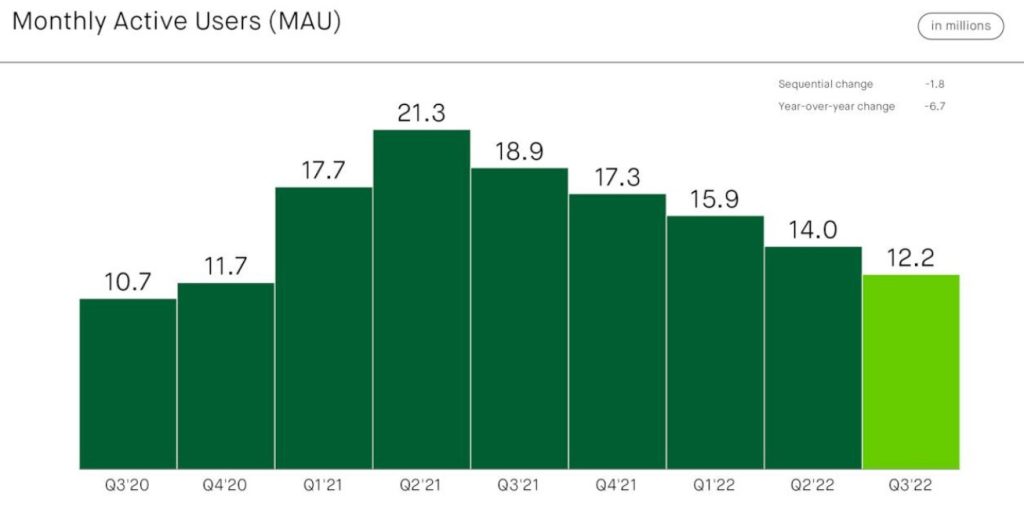 Its adjusted EBITDA rose to $47 million as its net revenue was $361 million. Notably, Robinhood's share-based compensation was about $110 million.
Robinhood share price crashed as challenges in the crypto industry. FTX, one of the biggest exchanges in the industry, collapsed on Tuesday. In a statement, the company said that it will be acquired by Binance after it suffered a bank run. As a result, the prices of most cryptocurrencies crashed as contagion risks rose. It is worth noting that FTX was also one of the biggest Robinhood shareholders.
Robinhood share price forecast
The daily chart shows that the HOOD share price has been in a slow comeback in the past few days. Along the way, the stock formed an ascending channel shown in purple. It crashed below the Ichimoku cloud and the lower side of the ascending channel. The Stochastic Oscillator has moved below the oversold level.
Therefore, the outlook of the stock is bearish, with the next key support level being at $8.50, which is about 15% below the current level. A move above the 50-day moving average will invalidate the bearish view.