The BT share price has had a spectacular start of the year as investors focus on the company's transformation. The stock is trading at 200p, a few points below the 2021 high of 203p. The shares have risen by almost 50% from their lowest level in 2021. As a result, the overall market capitalization has jumped to more than 26 billion pounds.
The rise and rise of BT share price
BT Group is one of the biggest telecommunication companies in the UK. It has more than 105k workers, making it the sixth biggest employer in the country after Compass, Tesco, HSBC, Unilever, and Sainsbury. BT offers several services to individuals and companies,including voice, text, and data products .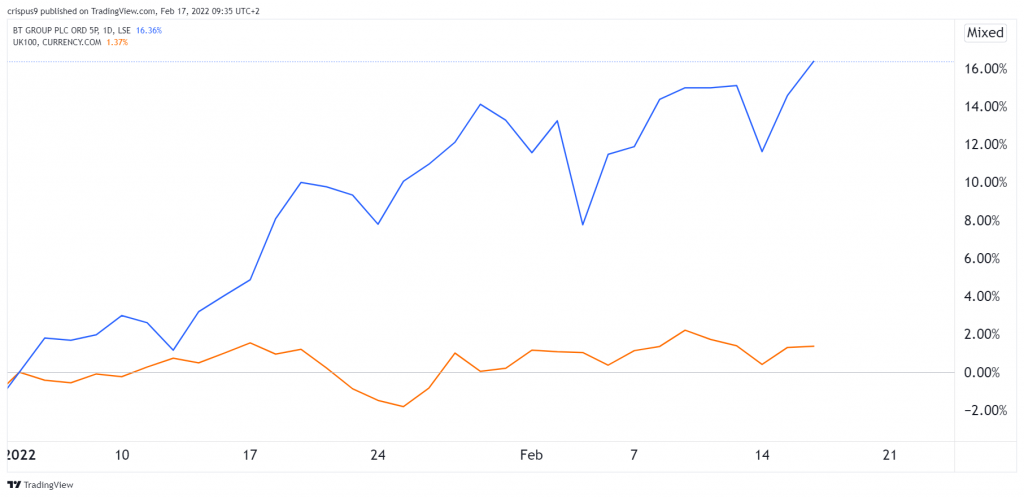 There are several reasons why the BT stock price has jumped sharply in 2022.
First, the company has been making plans to sell its sports media company this year. While the previous buyer was DAZN, the company is said to have settled for Discovery, the giant American media company. The amount of slightly below 1 billion pounds. The divestiture will help BT to focus on its core business.
Second, the BT shares have done well as investors wait for other potential corporate actions. As you recall in 2021, Patrick Drahi, a French billionaire, acquired a stake in the company and then added into it in December. Therefore, some analysts believe that BT can be a good acquisition target because they see its stock as being undervalued compared to peers. However, because of its important role in the UK, it is unlikely that such a deal will go through.
Third, as a value company, investors have bought the stock because they expect it will provide more dividends. Besides, expectations are that dividend payouts will cool down this year in the UK. A quality company like BT offers a good hiding place for investors.
BT Group earnings
BT published mixed Q3'21 earnings on February 3rd. The company said that its revenue declined by about 2% to £15.67 billion in the quarter. It attributed the revenue drop to its Global and Enterprise divisions, which were then offset by its Openreach program.
Its EBITDA rose by 2% to about £5.7 billion while profit before tax declined by 3% to £1.53 billion as overall costs increased. Like most British companies, it has been forced to pay more money in various parts of its business like wages and cost of inputs. Therefore, while the results disappointed, analysts expect that the company's growth will offset the weakness. 
BT Group dividends
As mentioned, one of the main reasons why the BT share price has done well recently is its dividend. With the Fed and Bank of England set to ramp up their rate hikes this year, investors are moving to value stocks. And BT is one of the best-known value stocks in the UK. 
BT Group investors were a bit disappointed when the company decided to suspend its dividend amid the Covid pandemic. That was the first time in 36 years that the company did that. The firm also warned that shareholders will receive lower payouts in the future as it increases its investments to boost its network.
BT has already resumed paying its dividends. It went ex-dividend on 31st December and then distributed the payments on February 7th this year. Its payout was about 2.31 pence per share, which was lower than what it was paying before the pandemic.
BT has a dividend yield of 1.17% and a forward ratio of 2.35%.. Therefore, investors are buying as they expect another long period of payments.
Are BT shares overvalued or undervalued?
While BT share price has jumped by 50% in the past few months, there are signs that they are not yet in an overvalued zone.
For one, the company has a trailing PE ratio of about 19.33x, which is higher than that of the FTSE 100. But it is lower than that of S&P 500. The company has a forward EV to sales multiple of 1.84 and a forward EV to EBITDA of about 5. While BT is not as cheap as it used to be, its shares are not all that overvalued. 
In addition to multiples, another way to consider whether the shares are overvalued or undervalued is to look at its present and future free cash flows. As you can see below, the company is about 53.6% undervalued using a DCF valuation model.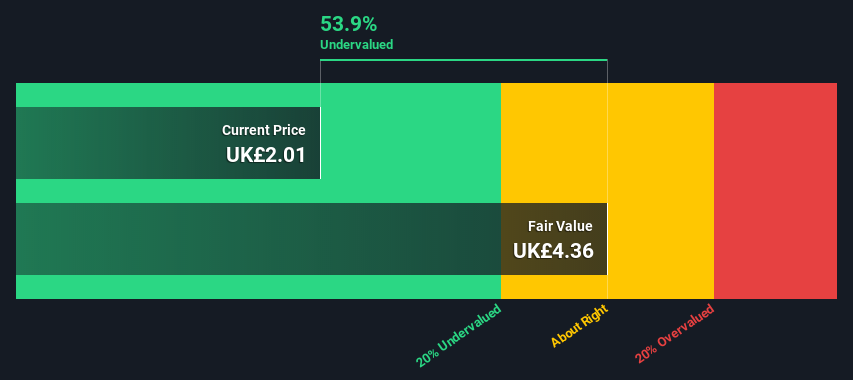 BT Group analyst forecasts
Analysts are generally upbeat about the BT share price. For example, analysts at Berenberg Bank upgraded the stock from hold to buy in November. Other analysts who are bullish on the stock are from companies like Barclay's, Bank of America, Morgan Stanley, and JP Morgan Chase. Others are from Credit Suisse Group. However, there have been no analysts recently.
Meanwhile, as shown below, data compiled by TipRanks show that there are 11 analysts covering the stock. Of these analysts, 8 have a buy rating while 2 have a hold rating. Only one has a sell rating on the stock. The average forecast for the stock is 220p, which is above the current 200p.

BT share price forecast 2022
Turning to the daily chart, we see that the BT stock price has been in a strong bullish trend in the past few months. The upward trend has been supported by the 25-day and 50-day moving averages.
A closer look shows that the stock has formed a V-shaped pattern. We can also judge this pattern to be a cup and handle, which is usually a sign of a bullish continuation. The Smart Money Index has also formed this pattern.
Another look shows that the Money Flow Index (MFI), which is a modified Relative Strength Index (RSI) has started forming a bearish divergence.
Therefore, in the near term, there is a likelihood that the stock will start a bearish trend as it forms the handle section of the pattern. If this happens, the next key support to watch will be at about 180p.
For 2022 and beyond, the stock will likely have a positive year as income-focused investors jump in.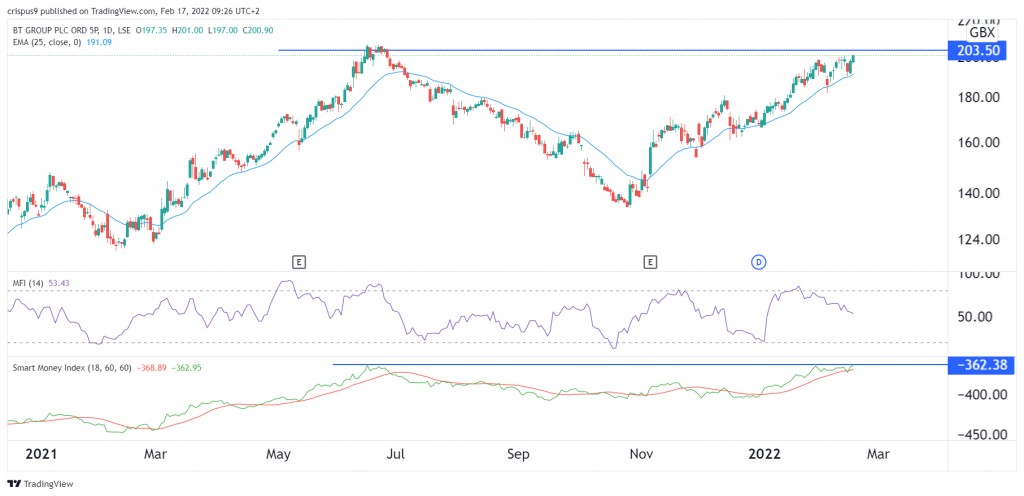 Summary
BT Group is a leading company that provides essential services in the UK. 2022 will be a good year for the company as travel leads to higher roaming income and as more homes get connected to the Openreach network.