Brent crude oil price shows gains after closing Wednesday in the red as the market anticipates a fall in demand for oil in 2024. According to the International Energy Agency, the demand for oil could drop to 880,000 barrels per day in 2024 if the world economy continues to suffer due to inflation.
During the Asian session, oil prices fell by 1% on Thursday. However, the start of the London trading session pushed the oil prices to the upside. At press time, Brent oil price was up 1.95% after a slight pullback from the daily high of $87.60.
Analysts Predict Rise in USA's Oil Inventory
The crude oil inventory data is set to be released on Thursday. The US inventories are expected to increase slightly. According to six analysts, oil stockpiles have increased by around 900,000 barrels. However, another 3 analysts anticipate a 1.7 million barrels decrease. A confirmation of this prediction will be the DOE's inventory data which will be released later today.
Despite a demand decrease of 0.8 million barrels per day in 2024, IEA still anticipates a decent demand growth for oil in 2023. The agency raised its forecast to 100,000 barrels per day for 2023 as it expects India, China, and Brazil to buy oil till the end of the year. This may act as a short-term tailwind for Brent crude oil price.
Brent Crude Price Chart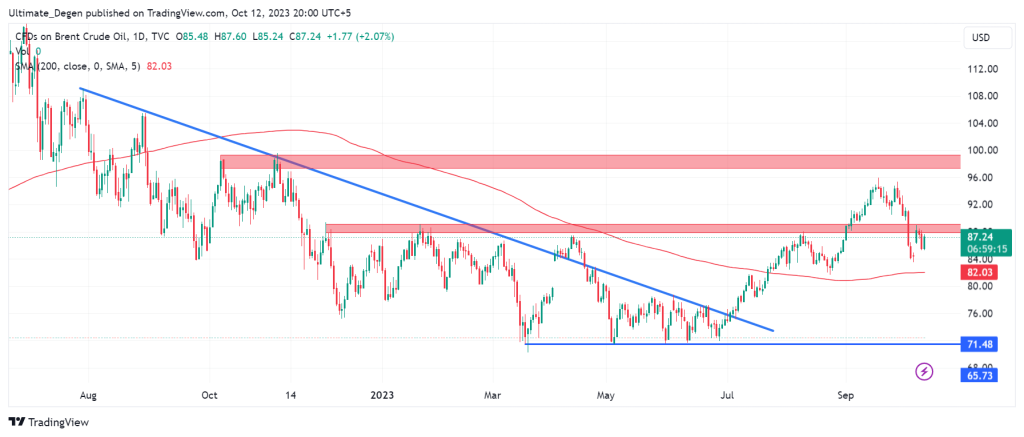 Brent Crude Oil Price Prediction
An analysis of the Brent crude price chart shows it consolidating under the key supply zone of $88. Previously, the price was able to break above the key level and traded above it for about 21 trading days before plunging back under $88.
In the event of a reclaim of the $88 supply zone bolstered by the ongoing conflict in the Middle East, I expect the price to retest the November 2022 level, which lies 13.3% above the current price. However, the Brent crude oil price prediction might flip bullish if it faces rejection from the $88-$89 level.