According to Bank of America, the Brent Crude Oil price could rise by more than 40% over the next seven months. BofA commodity analyst Francisco Blanch has upped the bank's June 2022 price target from $100 to $120, citing increasing air travel and high gas prices as possible catalysts for an extended melt-up.
"Oil prices have recently risen above $80/bbl, led by gas-to-oil substitution and an increase in air travel. Where will we go next? Pent-up demand for oil was the main reason we laid out a $100 target for Brent in 2022 back in June. Yet, we now believe that the run-up in global gas and coal prices has turbocharged the Brent and WTI price recovery. As we look into 2022 and 2023, we still expect oil to move from a steep deficit that has seen global inventories draw at a rate of 1.2mn b/d in the past six months to a more balanced market. Still, structural oil demand and supply rigidities are emerging, and we now forecast Brent and WTI crude oil prices will average $85/bbl and $75 and $82 and $70 in 2022 and 2023, respectively, compared to $75 and $65 (for Brent) and $71 and $61 (for WTI) prior."
The report leaked on Zerohedge paints a worrying picture of energy costs and their possible effect on inflation in the months ahead. A 40% increase in oil price could harm the economic recovery while the odds of an interest rate hike in 2022 are spiking, fuelling the stagflation argument. Furthermore, BofA's forecast is likely to increase calls for OPEC+ to stick with their planned 400,000 barrels per day of increased output.
Price Analysis
The monthly price chart shows that Brent Crude burst through long-term trend resistance to a three-year high of $86.70 last week. However, the price has pulled back marginally after a technical rejection at the 2018 high of $86.74. Nonetheless, the monthly chart looks incredibly constructive and suggests the $120 price target is easily achievable.
Governments do have tools at their disposal to cool the red-hot rally. The most obvious is the release of Strategic Petroleum Reserves (SPR), although this is considered a last resort. However, releasing state reserves would likely have a limited long-term effect. Therefore, the focus will be on OPEC+ to deliver some relief at this week's scheduled meeting. Although the Zerohedge article rightly points out that the organization has failed to maintain its agreed cuts so far. Therefore the risk is skewed to the upside for the foreseeable future.
Brent Crude Oil Price Chart (Monthly)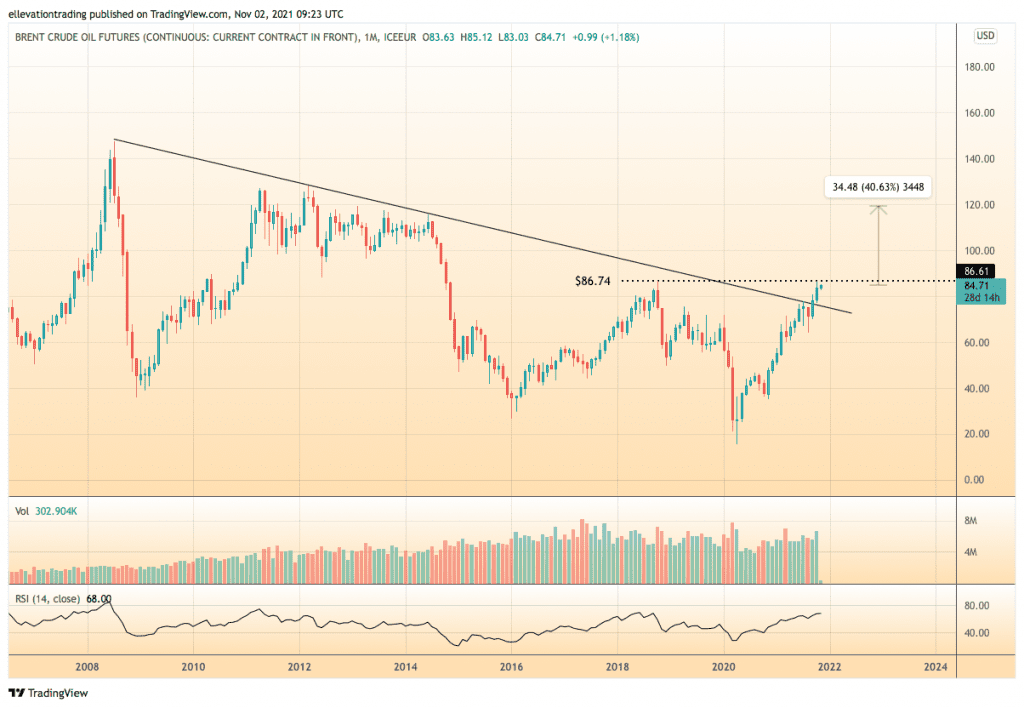 For more market insights, follow Elliott on Twitter.