The BP share price is in a difficult position as Jerome Powell cranks up the hawkish rhetoric while the Omicron variant threatens travel.
BP Plc (LON: BP) closed out November down -7% following Crude Oil's worst one-day performance in over a year last week. As a result, the oil supermajor's share price is up just 24% year-to-date. And sadly for long-term holders, trading 55% below the 2006 all-time high. Furthermore, several bearish developments threaten to heap even more misery on shareholders.
Firstly, the market is still undecided if the Omicron covid variant threatens to destabilise the global economic recovery. Whilst experts have downplayed the threat, yesterday, Japan closed its borders to all foreign visitors, which could set a precedent for more nations to adopt travel curbs. Furthermore, Fed chair Jerome Powell has done a complete 180-degree on inflation, switching his view from transitory to structural. Subsequently, the FOMC is likely to begin tapering in the next couple of months. The danger is if tapering starts at the same time, global GDP weakens. A worst-case scenario could spark short-term deflationary pressure, US Dollar strength, and weaker oil prices, all potential headwinds for the BP Share price.
Price Analysis
The weekly chart shows BP is testing long-term trend support at 319p. Notably, below the trend, the 100-WMA at 308.33p and the 50 at 307.15p add to the support. Therefore, if the BP share price drops just 5%, it will have broken below several long-term support levels. In my opinion, if this happens, I expect selling to drive the price towards the July low, around 275p.
However, for now, the price remains in an uptrend. On that basis, it's too early to know if the pessimistic scenario will play out. Furthermore, the Omicron landscape is changing, and markets will continue to react to news flow. For that reason, I am on the fence regarding BP's short-term prospects until a more precise picture emerges.
BP Share Price (Weekly)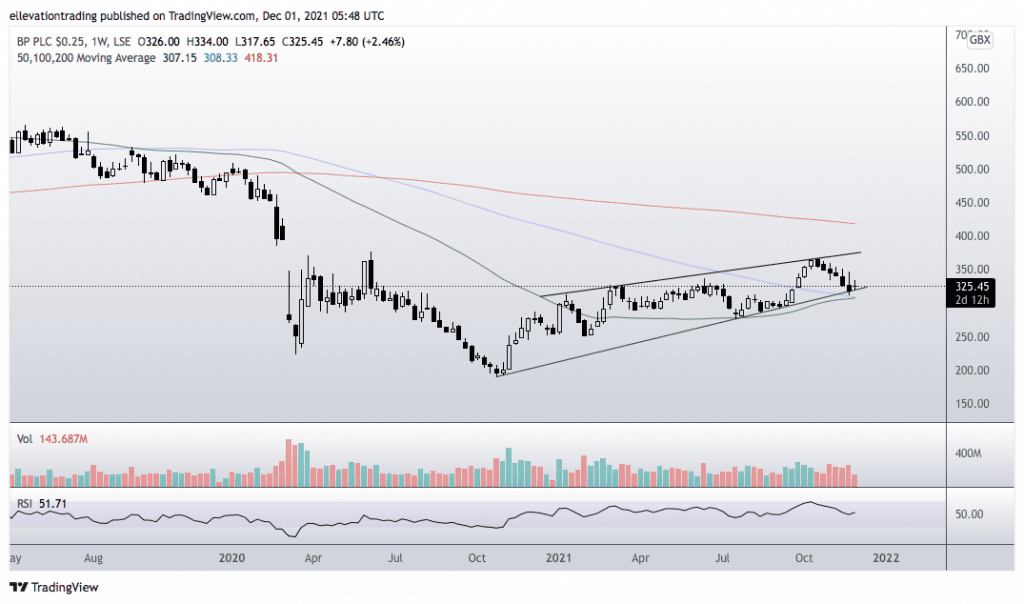 For more market insights, follow Elliott on Twitter.