The BP share price is trading higher this Thursday, adding 2.15% to yesterday's closing price to put the stock on course for a third straight winning session. The continued upside seen in the BP share price comes as the EU voted to implement phased curbs on Russian oil imports on Wednesday. The situation increases supply concerns which could force increased demand for energy products. Already, Poland is reporting gas shortages and higher prices after implementing a total ban on Russian energy product imports last week.
Analysts at German prime broker Berenger have raised their price target for the stock. The firm now sees the BP share price trading at 500.0p, representing a 50p increase over its previous target. Berenger's analysts are basing their bullish rebase of the stock's price target on a solid first Q1 2022 performance and a more positive outlook for the second quarter.
The BP share price is significantly uplift from its boosted share buyback program and higher refining margins. In addition, higher gas prices are set to boost revenues significantly. The company's debt burden is also down, with net debt falling from $55 billion to $36 billion at the end of Q1 2022. 
The BP share price is currently up 10.9% for the week, giving it the most substantial weekly gain since the first week of 2022.
BP Share Price Outlook
The advance puts the BP share price activity on course to hit the 32.18 resistance (27 January and 15 February highs). Above this level, the 33.00 psychological price mark (10 February low and 16 February high) forms the intervening pitstop between 32.18 and 33.72 (9 February high). Finally, attainment of the 35.37 resistance barrier (24 February 2020 low) closes the downside gap that formed at the pandemic's start.
On the flip side, the 25 February and 22 April highs at 30.82 form the initial downside target if the bullish momentum fades before crossing above 32.18. Below this level, additional layers of support are seen at the 29.73 price mark (22 April low) and the 28.47 pivot (28 February and 18 March lows). Finally, 27.15 forms an additional level of support that stands between 28.47 and the 27 May 2021/21 December 2021 lows at 26.01. 
BP: Daily Price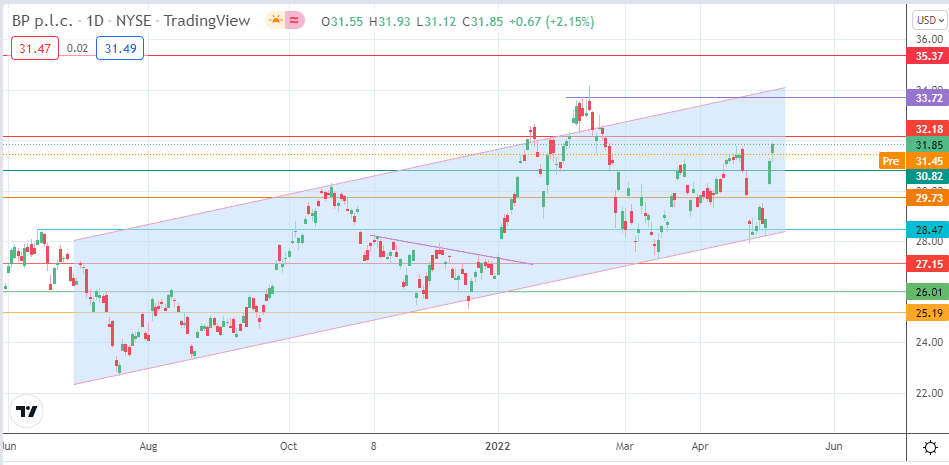 Follow Eno on Twitter.