The Bitcoin price has recovered 9% from Tuesday's low, but it's hardly running away to the upside, which is not inspiring confidence. Meltdowns, such as we saw this week, often over-extend to the downside, forcing the price to get short-term oversold, leading to a reversal. As the price starts to move higher, buyers, afraid of missing the discount window, chase the price higher. Furthermore, those that stopped out at the lows desperately rush back in the hope to recoup some losses and profit from the upside. This strategy can sometimes lead to a second and more violent wave of liquidations.
As we have seen several times this year, Bitcoin (BTC/USD) has had an exaggerated move, retracing before extending the move. For instance, in April, BTC dropped from the $64,900 high down to $51,3000 before recovering to $57,600. However, within a week, the price has slid to $47,000.
Furthermore, between the 12th and 13th of May, the Bitcoin price lost 20% before rebounding 15%. By the 19th of May, BTC was 44% lower. This is likely due to crypto traders being conditioned to 'buy the dip'. And over a long enough timeline, that has been a good strategy. However, for those late to the party, it's a dangerous game.
BTC/USD price Analysis
If the Bitcoin price turns lower from here, exceeding Tuesday's $42,830 low, it guarantees that everyone that bought that dip is underwater on their purchase. In that instance, stop-loss selling could trigger a cascade that takes the price below the 200-day moving average at $41,346. And if that happens, Bitcoin is back in a bear market.
However, for now, the price is hanging in there. Furthermore, if BTC finishes the day above Tuesday's $46,894 close, it may extend higher over the weekend. Although, not until BTC recovers $50k can the bulls claim victory. In this event, the Bitcoin price may resume its assault at trend resistance of $58,000.
Bitcoin Price Chart (daily)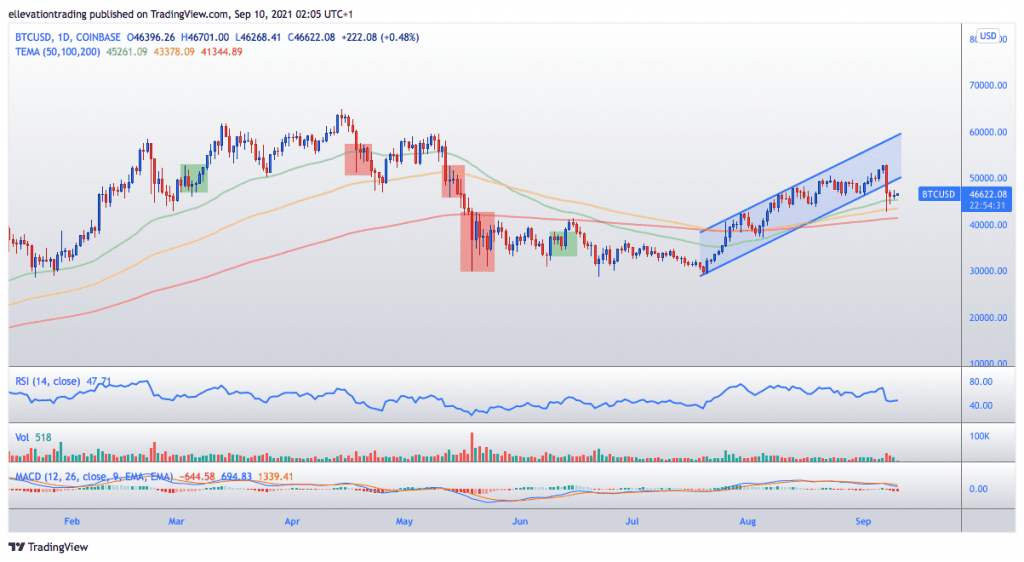 For more market insights, follow Elliott on Twitter.