After two weeks of bullish price action, Bitcoin price faces a big correction once again. BTC price briefly surpassed $48,000 in Tuesday's trading session. However, the Bitcoin (BTC) price kept trading within $46.8k-$48k in the next few days and finally broke below $45,000 on Friday. The ongoing correction suggests that the bulls might be losing some momentum. Many investors are also considering the current dip as a buying opportunity to target a Bitcoin price above $55,000.
Latest Bitcoin News
After the ban on Bitcoin mining in China, the Bitcoin hashrate dropped by more than 50% in 2021. However, the network hashrate is once again on the rise. History shows a correlation between the increase in Bitcoin price and the network hashrate. As per the latest Bitcoin news, the network is secured by 201 million TH/s. In other news, Ronin Chain of Axie Infinity faced one of the biggest hacks in the history of cryptocurrencies. Hackers stole more than $600 million in crypto during this hack.
The past indicates that it's normal for Bitcoin price to correct after massive hacks. Therefore, many analysts are blaming the recent hack for the current dip in BTC price. This corrective move has also triggered liquidations for late longs that had stop-loss around the key level of $45,000.
Bitcoin Price Technical Analysis
Technical analysis of Bitcoin price USD indicates that the current accumulation phase could follow with a big move. This move is more likely to be in the upwards direction as the Bulls have the upper hand. Nevertheless, any break of the $40k barrier by Bitcoin price could be curtains for the Bulls. Such a breakdown could take the price to the lower 30k region, which would be a nightmare for the bulls. BTCUSD price charts is listed below.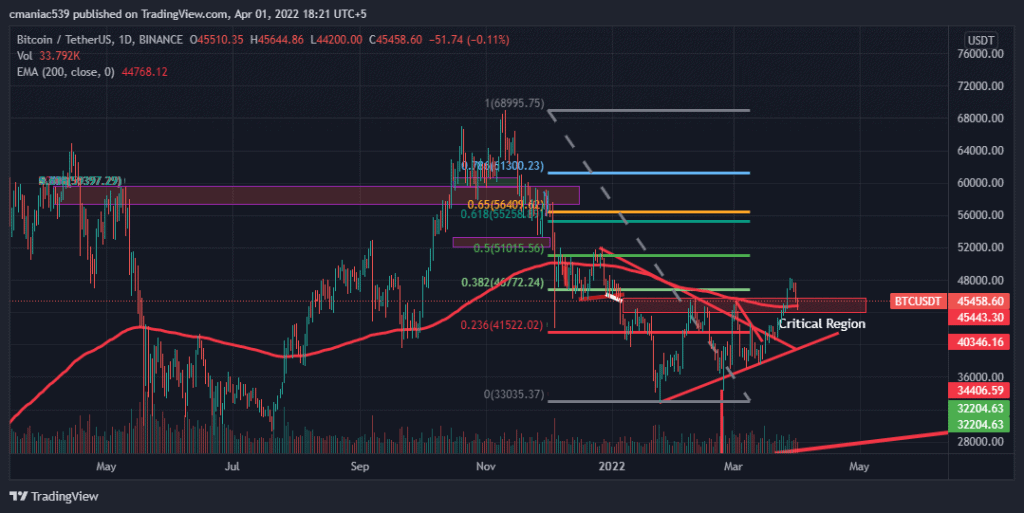 Similarly, any daily close above the $48,000 price level could give bulls enough momentum to target $55,000. This level is also in alignment with the 0.618 Fib retracement region of the ongoing retracement from $69,000. At the time of writing, BTC to USD price is $45,289, which is 34% below November 2021 all-time high. Today, Bitcoin price dipped to the lows of $44,200; however, it regained the 45,000 level after a few hours. For the moment, bulls need to hold the price above 200 EMA.