The Binance coin price came within a whisker of its $705 all-time high over the weekend before reversing 11% to $615. Binance Coin (BNB) is paring the losses and trading at $638 (+-1.82%) in early Asian trading on Monday. Despite the pullback, the exchange token has gained over 20% so far in November. Subsequently, BNB's market cap is back to $106, cementing its place as the third most valuable cryptocurrency ahead of Solana (SOL).
Cryptocurrencies are enjoying the second big bull market of 2021. In the last month, several digital assets have reached new highs. Notably, BNB is the only crypto in the top-5 not to achieve the feat. However, on Sunday, Binance Coin looked set to Join BTC, ETH, and Solana and reach a record valuation.
BNB traded as high as $686, just 2.5% short of a record this morning, before tumbling to $614. Nonetheless, it may just be a matter of time before bullish momentum forces Binance Coin into new territory, triggering a period of price discovery
BNB Price Analysis
The daily chart shows BNB is experiencing an almost parabolic uplift. As of yesterday's high, BNB had gained around 58% since the start of the month. As a result, the Relative Strength Index (RSI) reached a lofty 78.47, indicating the rally was stretched. Subsequently, the bullish momentum was not strong enough to clear the former high of $705.
This morning's pullback has softened the RSI to 75.0 which has reduced the odds of a correction. However, the reading is considered high and still indicates an overbought rally. On that basis, the bulls may grow impatient if the Binance coin price fails to make a new high in the next session or two. If that happens, a return to the horizontal support at $520 looks possible.
On the other hand, if BNB advances beyond $705, an extension towards $800 is likely. In my opinion, until the price reaches a new record it is vulnerable to a correction. Therefore, I would prefer to add length on a daily close above $705 (placing a stop below), or scale down towards $520.
Binance Coin Price Chart (Daily)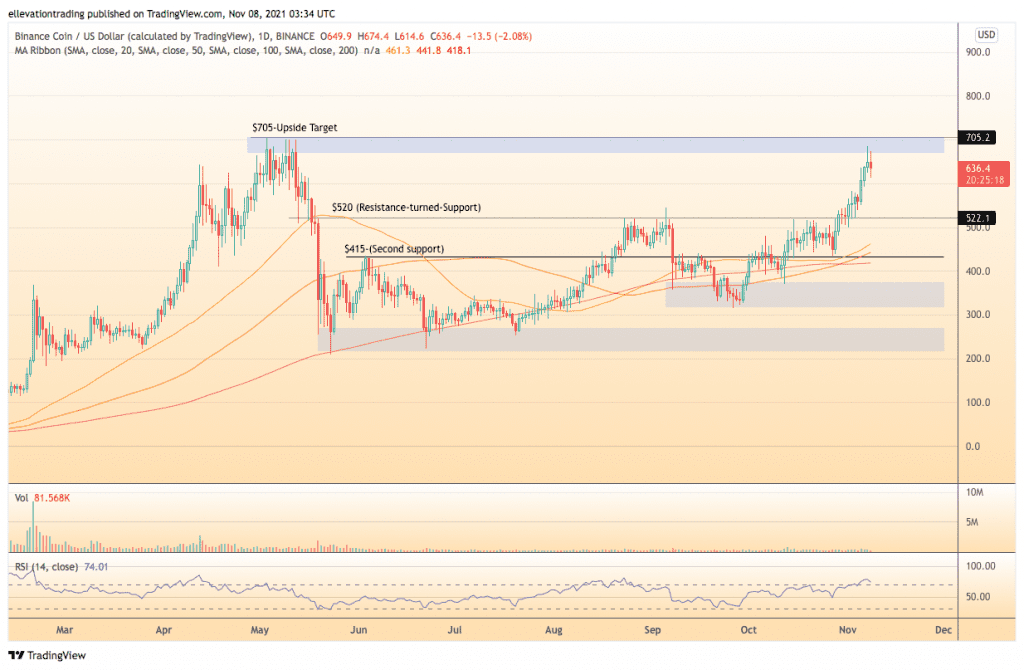 For more market insights, follow Elliott on Twitter.