The Binance coin price continues to trade sideways below the psychological $500 barrier as Bitcoin and Ethereum pause for breath. October has marked the start of the second cryptocurrency bull market in 2021. Last week Bitcoin jumped to a new record of $66,999, and Ethereum almost managed the same. Despite Binance Coin (BNB/USD) gaining 25% this month, considerable resistance on the run-up to $520 has so far proved unscalable.
Due to Cardano's lethargic price action over the last few weeks, BNB has firmly cemented its place as the third-largest cryptocurrency. The current Binance Coin price translates to an $80.7 billion market cap, almost $10b more than Cardano. Furthermore, there are signs that BNB is building pressure to clear the upside resistance. Which, if it happens, could open the door to May's peak value of over $100b. However, for BNB to punch through the ceiling, it may need some help from BTC and ETH. However, presently the market leaders are consolidating below last week's highs and, despite looking good, are yet to find second gear.
BNB Price Forecast
The daily chart shows that following the sharp decline in May, the Binance Coin price has closed above $500 just three times. Furthermore, intraday rallies above $500 have constantly faced rejection around $520. Therefore, I consider $520 to be a significant price point for BNB. Furthermore, if Binance Coin clears the $520 level, there isn't much in the way of resistance until the former all-time high at $705.
It goes without saying that to rally 45% will take some doing. Nonetheless, above $520, and Binance Coin is in with a shot. However, until BNB clears the resistance, I remain on the sidelines. Furthermore, if BTC and ETH take a step back from here, BNB will likely follow suit. In that event, an extension lower to the critical moving averages between $406 and $423 is probable. Considering Bitcoin has climbed $3,500 from its overnight low, the bullish scenario for BNB looks the more obvious of the two. However, until BTC and ETH reclaim last week's peaks, the downside is also possible. For that reason, my immediate view is neural.
Binance Coin Price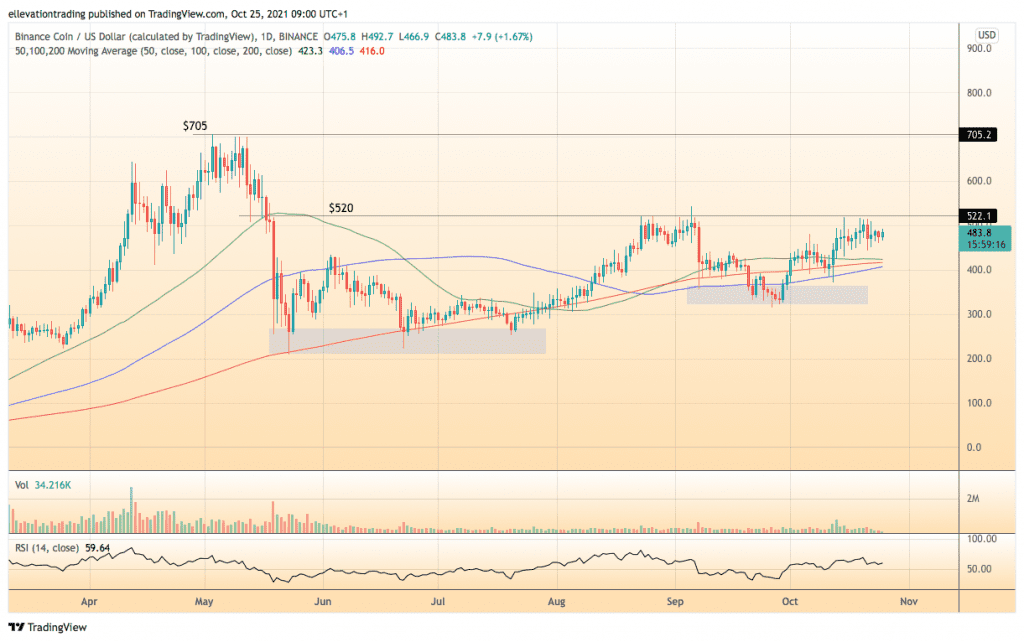 For more market insights, follow Elliott on Twitter.