The AVAX Price showed increasing signs of exhaustion earlier in the week and appeared on the verge of a deep correction. But this morning, Avalanche (AVAX) is on track for a second positive trading day which may have averted the meltdown. Nonetheless, the bulls have their work cut out. The AVAX token is in a short-term downtrend and changing hands 30% below the September high.
In last weeks report, I outlined how Avalanche was setting up for a fall, predicting AVAX could drop anywhere between 20-50%. Thankfully for the bulls, I was only partially correct. AVAX did lose 18% within 49 hours of the release of the report. However, thankfully, it appears the token may avoid the 50% drop. It's not just Avalanche that has experienced weakness in the last few weeks. Altcoins, in general, haven't responded to Bitcoins (BTC) ascent to $58,000. Bitcoin has pulled away from the pack recently, and capital seems to have migrated from alts into BTC as odds of a Bitcoin ETF increase. As a result, the bullish momentum that propelled Avalanche to an all-time high in September waned, and the trend has turned lower. Subsequently, the AVAX price reversed 40% from September's $81 peak to $48 this week. Despite the drop, Avalanche is holding the long term uptrend that underpins the 470% bull market from the July low.
Avalanche Price Forecast
The daily chart shows that Avalanche has been trending lower in a descending parallel channel following the September high. The top edge of the falling channel at $64.00 is the first significant resistance level. Successful clearance of $64.00 would constitute a short term bullish breakout, potentially targeting the all-time high.
Notably, Tuesday's dip to $48.00 found solid support at the long term rising trend line at $48.50. The trend, now visible at $50, is a critical level of support, and as long as the AVAX price holds the uptrend, a break above $64.00 is probable. However, failure to maintain $50 could derail the recent bull market, encouraging liquidation and triggering a steeper decline. Therefore, a drop below $50 will invalidate the bullish outlook.
AVAX price Chart (Daily)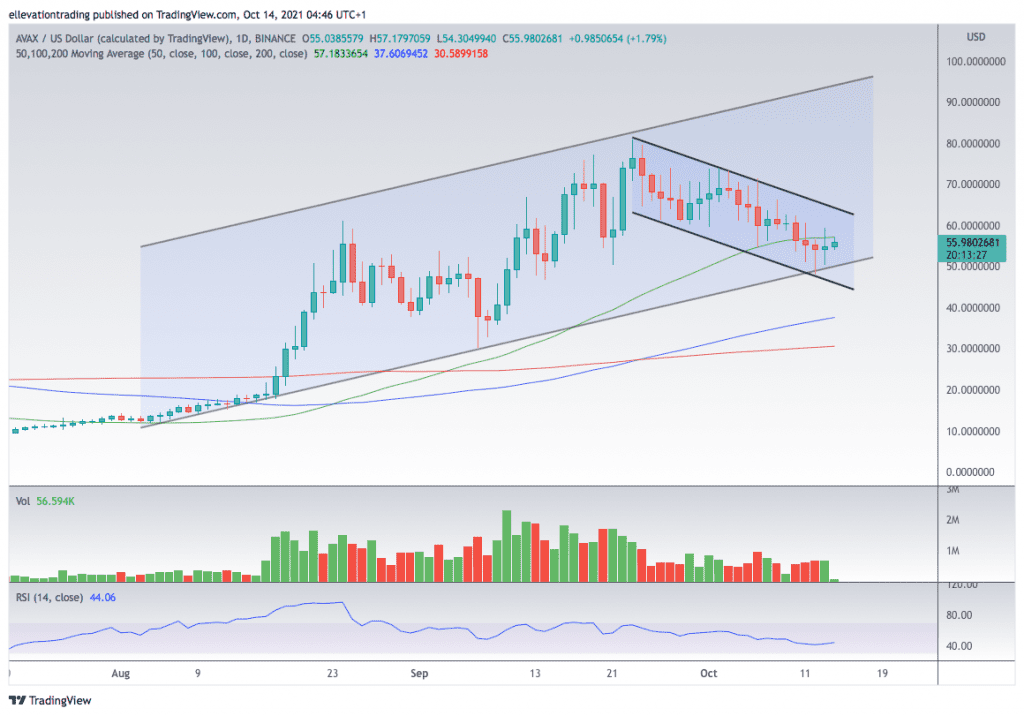 For more market insights, follow Elliott on Twitter.