The Avalanche price has surged +50% so far in November and seems intent on achieving a triple-digit valuation. Avalanche (AVAX)is trading at 91.50 (+3.87), just off this morning's all-time high of $92.80. Avalanche's market cap has ballooned to $20.3 billion, making AVAX the 13th most valuable cryptocurrency behind Terra (LUNA).
layer-1 blockchain Avalanche has been unstoppable this year. The network has made huge strides forward in decentralized Finance (Defi) and is currently the 6th most utilized blockchain with a Total value Locked (TVL) of $9.58 billion. Furthermore, Avalanche's TVL was less than $200 million at the start of August, highlighting its incredible growth over the last three months. However, it also highlights the parabolic nature of the recent move.
The AVAX token has been trending higher since July, gaining almost 900% in the process. As a result, the Relative Strength Index has stretched to 75.43, suggesting the rally is overdone in the near term. Nonetheless, I expect AVAX will squeeze higher and encourage FOMO buying before punishing those late to the party.
AVAX Price Analysis
The 4-hour chart shows the Avalanche price bounced from the $72.00-73.00 support area at the start of the month. Furthermore, the rally has cleared out the supply around $80.00, which opens the door to an extension to $100.
However, the RSI reading of 75.40 is the highest level since August. But in saying that, cryptocurrencies rarely respect the RSI and often extend deep into the overbought territory before correcting.
On that basis, I think AVAX will trade higher in the short term and expect the bulls to push for $100. However, chasing the price higher at this level is dangerous considering the magnitude of the recent rally and the high RSI, both of which suggest we may be approaching a blow-off top, leading to a correction. Therefore, waiting for the RSI to normalize before entering a position has a favourable risk/reward.
Avalanche Price Chart (4-hour)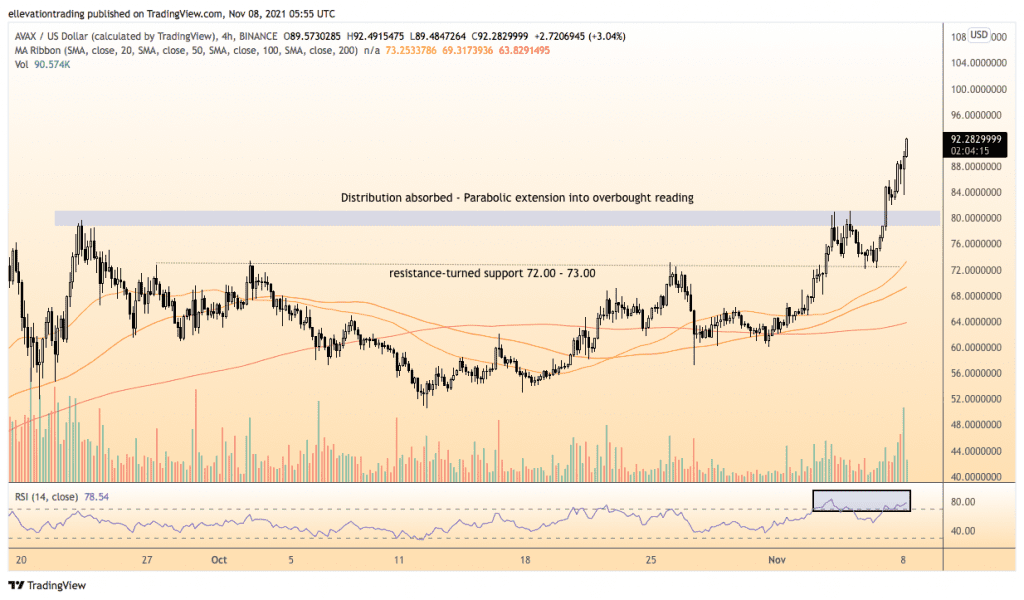 For more market insights, follow Elliott on Twitter.