The ASOS share price has had a torrid time in September. Since the start of the Month, the fashion retailer is down more than 20%. This recent poor performance sees ASOS almost half its price in March and showing a -33% return year-to-date.
The covid-pandemic gave the perfect boost for online clothing store ASOS plc (LON: ASC). Like rival Boohoo (LON: BOO), its share price made a strong recovery following the March 2020 crash. However, after trading as high as 5,995p a year later, the share price has fallen off a cliff.
The return of the high street is a challenge for e-commerce companies. Shoppers who were formerly confined to their homes are now free to visit bricks and mortar retailers. This alone is a headwind for the ASOS share price. However, the company faces more specific problems. Last month chairman Adam Crozier stepped down to take up the same role at BT Group (LON: BT.A), leaving a void still to be filled. Also, Superdry (LON: SDRY) has launched legal proceedings against the company, claiming that recent ASOS designs are copies of their popular Osaka range.
As a result, the ASOS share price has woefully underperformed the market, and sadly for investors, the 3,099p price tag is the same as in 2013. Furthermore, unless ASOS can pull a rabbit from the hat, the price may get cheaper still.
Technical Analysis
The daily chart shows that the ASOS share price dropped below the significant support at the start of the month, around 3,600p. This led to a pick up in selling which accelerated the selloff, forcing the price another 15% lower over the following two weeks.
The sharp decline has forced the price to become oversold. The Relative Strength Indicator (RSI) reads 19.10, the lowest figure since the March 2020 collapse. Furthermore, the share price is approaching the 0.618 Fibonacci retracement level at 2,900p, which aligns with a series of lows in October to create robust confluent support.
If the ASOS Share price continues to slide towards 2,900p, it may offer a decent value buying opportunity. Although buyers should be aware that technically speaking, below 2,900p, the next level support is not seen until 2,040p.
ASOS Share Price Chart (Daily)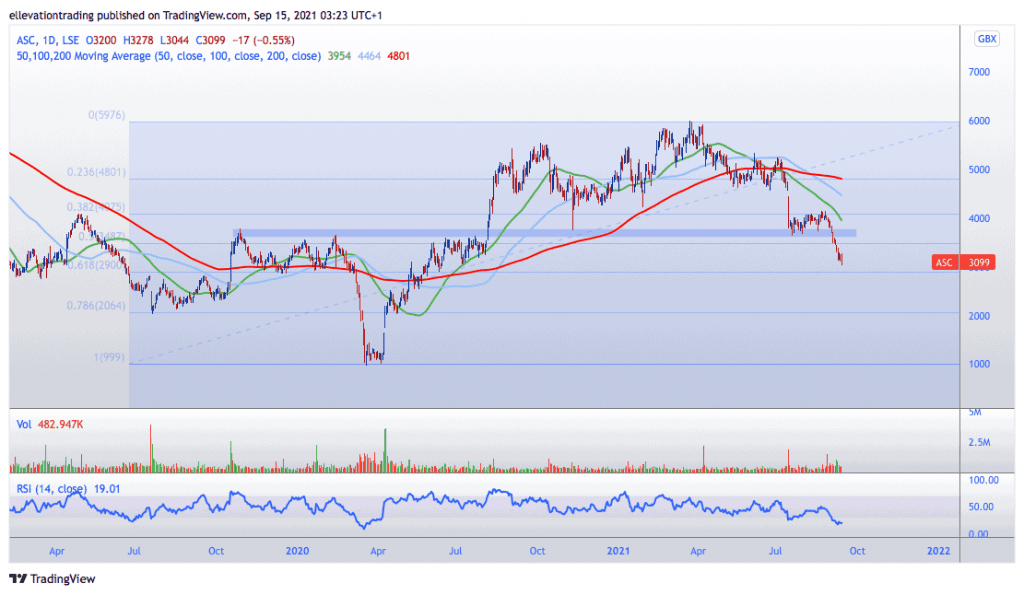 For more market insights, follow Elliott on Twitter.