Bullish Alibaba stock price forecasts are yet to materialize, following the muted performance of the stock so far in the New York trading session. This move has proven to be underwhelming, as the stock had closed higher in Hong Kong trading along with several other Chinese stocks. Alibaba gained 3.02% on a positive day for the Hang Seng index.
A steep drop in COVID-19 cases in China has seen new infections in Shanghai drop to a three-week trough, raising hopes of further easing of lockdowns in China. Despite the price lull in Alibaba's price activity for the day, the company is pushing ahead with its plans to broaden its streaming digital content business footprint.
The loss of market share by Netflix in the video streaming business provides an opportunity for Alibaba to benefit from its foray into that space. The company is now focussing on building its video streaming platforms Alibaba's revenue growth in this segment to the tune of $5billion when its investment and revenue growth declined may give hope for a recovery in the share price.
The Alibaba stock price forecast over 12 months as provided by 48 Wall Street analysts, remains at 157.25, which gives a potential upside of 44.33%.
Alibaba Stock Price Forecast
The bounce on the 82.57 support needs additional upside momentum to attain the 98.63 resistance (21 March low and 14 April high). Above this level, an advance would target 109.97 (1 March/6 April highs) before 120.27 (30 March high) and 129.88 (7 December 2021 and 17 February 2022 highs) enter the mix as other northbound targets.
However, if the bulls fail to defend the 82.57 support level on a potential retest of that level, the price activity slumps towards the support at 73.22 (15 March low). Below this level, the 60.03 price target is the multi-month support that enters the mix.
Alibaba: Daily Price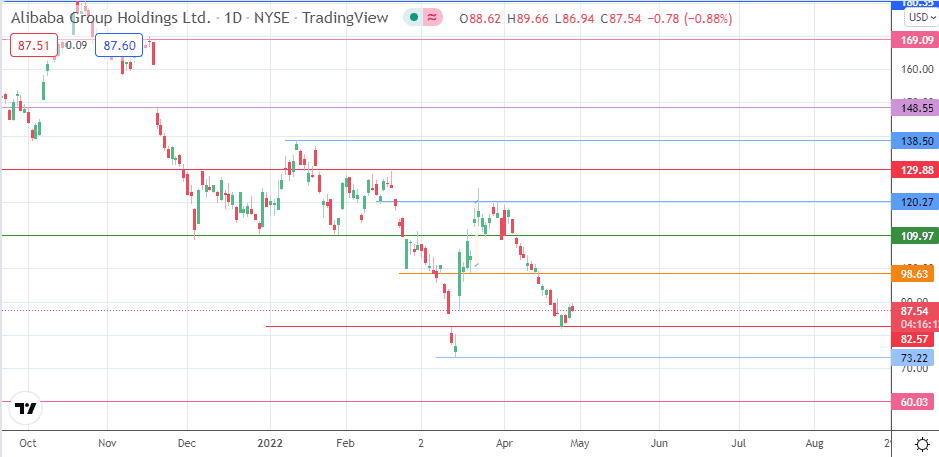 Follow Eno on Twitter.