Alibaba stock price is not finding love in the market even after the management's measures to boost prices. The BABA stock is trading at $100, almost 20% below the highest level in March. The shares have plunged by more than 70% from their all-time high, dragging its market cap to about $268 billion. This is substantially lower than Amazon, valued at over $1.8 trillion.
Why has Alibaba share price collapsed?
Alibaba stock price has collapsed for several reasons. First, like other leading Chinese companies like Baidu, JD.com, Meituan, and Pinduoduo, regulators have attacked Alibaba. In 2021, it was forced to pay a record fine and ordered to change its privacy settings. This came shortly after the country's regulators stopped the Ant Financial IPO in Hong Kong and Shanghai.
Second, the BABA stock price has also dropped because of the stock's growing risks that it could be delisted from the New York Stock Exchange (NYSE). The US government insists that its regulators should have access to companies listed in China. This means that auditors can easily visit and do due diligence. China has rejected these new rules and insisted that its regulators do a good job regulating these firms.
Finally, as the second-biggest e-commerce company globally, Alibaba has been affected by ongoing inflationary pressures. It has also been affected by supply chain challenges.
At the same time, these crises have left a significantly undervalued company than its peers. For example, it is trading at a price-to-sales ratio of 2.05 and a price-to-earnings ratio of 26. In addition, its forward PE is at 21.67, while DCF valuation shows that the company is trading at a 53.8% discount, as shown below.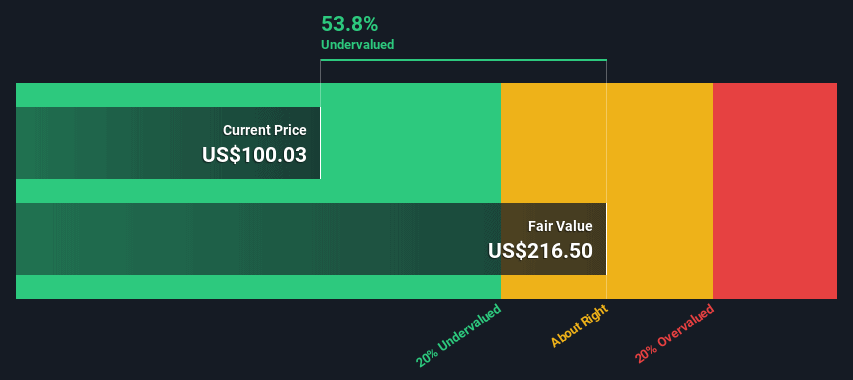 To address this undervaluation, the management has announced that it will implement a $25 billion share repurchase program. Share buybacks are meant to boost share prices by increasing the earnings-per-share. They also boost confidence among investors. However, their efficiency in achieving this goal has always been questioned in the long term.
Alibaba stock price forecast
The daily chart shows that the BABA share price has been in a deep downward trend in the past few months. As a result, the stock has formed a descending trendline shown in black. It is currently between this channel. At the same time, it has moved below the 25-day and 50-day moving averages.
Therefore, the Alibaba share price will likely keep falling in the coming weeks as bears target the next key support at $74. This price is along the lower side of the channel. A complete rebound will be confirmed if the stock moves above $130.