The Alibaba stock forecast for a continued recovery appears to be on course, as the premarket trading price has shot above $116.00 this Wednesday. This upside tick in premarket trading follows Tuesday's stellar 11.00% gain on the Alibaba stock price.
Bullish Alibaba stock forecasts continue as the stock builds traction from statements issued by the Chinese government the previous week, which points towards renewal of support for China's tech companies. Since then, the Alibaba stock price has posted six days of gains, taking it from just above $73 to $116.44.
US-listed Chinese tech companies had a very good day in Hong Kong trading, supported by upbeat earnings from tech companies such as Xiaomi Corp and Wuxi Biologics, a biotech firm. Alibaba posted a 6.6% gain in Hong Kong trading, boosting Alibaba stock forecasts of another positive day in New York trading.
Tencent Holdings, another Chinese tech conglomerate in which Alibaba's Founder Jack Ma has holdings, will report its earnings today. Investors want to see if Tencent's earnings will be good enough to keep propelling Alibaba and other Chinese tech stocks.
In other company news, the Alibaba Group is boosting its share repurchase value from $15billion to $25 billion in a measure aimed at shoring up its share price even further. Alibaba says it has paid $9.2billion out of the total shares buyback amount. However, despite the recent gains, the stock still trades at less than half its value when the Chinese regulators began the relentless crackdown on Chinese tech companies in 2019.
Alibaba Stock Forecast
Following the completion of the measured move from the bearish flag's evolution, the Alibaba stock price has recovered to its 23 February price levels. An additional bullish push is required to test the 129.88 resistance mark. Above this level, other targets to the north are seen at 140.00 (6 October 2021 low and 12 January 2022 high) and 148.55 (18 November 2021 high). If the bulls can push the price above 160.00, the 18 November 2021 gap will be closed.
On the other hand, the downside move could resume if the bears can overcome the 109.97 resistance (3 December 2021 and 28 January 2022 lows). This scenario will see 98.63, 85.70 and 73.22 submit themselves for potential testing as southbound targets.
Alibaba: Daily Chart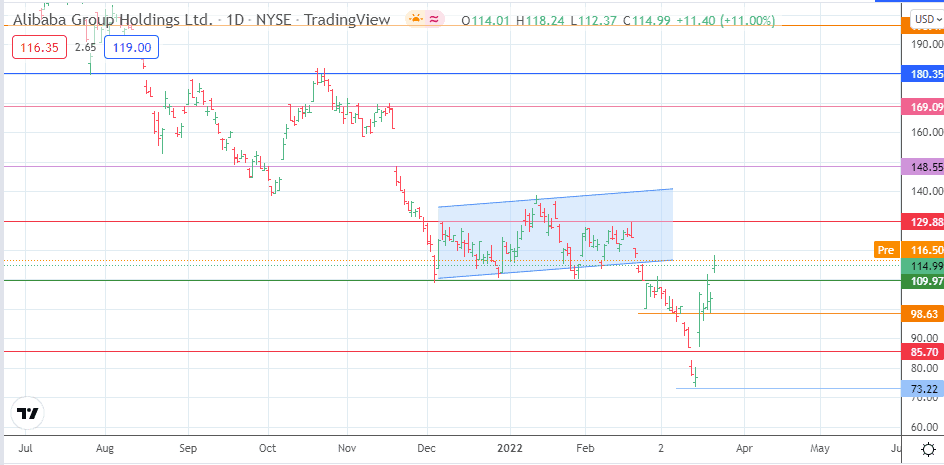 Follow Eno on Twitter.