Alibaba commenced operations in 1999 as a small-scale, web-based retail e-commerce company. Since then, the company has expanded into arguably the largest business-to-business, business-to-consumer, and consumer-to-consumer companies globally, with an electronic payment system (Alipay), cloud computing service, and a shopping search engine. The company also provides fintech and entertainment services and is involved in artificial intelligence research and development.
Alibaba's 2014 initial public offer raised $25 billion, making it the largest IPO globally. It also made Jack Ma the wealthiest person in China at that time. Alibaba secured listing on the New York Stock Exchange through this IPO. On Singles Day (11 November or 11/11), Black Friday, and Cyber Monday shopping festivals, the company's sales have consistently broken sales records.
Alibaba Stock News
The latest Alibaba stock news revolves around its October to December 2021 earnings report, scheduled for release on 24 February. This news comes from a sustained downward trend on the stock after an onslaught from Chinese regulators against tech companies in China.
The expected earnings report could serve as a rebound test for the Alibaba stock. Today, the Alibaba stock price indicates that the active week shows a 2.71% uptick. It comes on the back of strong macroeconomic headwinds in China and the tech selloff since 2022 began. However, a poll of 50 analysts shows that all are bullish on the stock and are predicting a recovery.
Will Alibaba Stock Go Up?
A CNN Money poll of 50 institutional analysts shows that they have offered a 12-month rice forecast of $184.29 as the median price, with $296.34 and $140.09 serving as the ceiling and floor of the price ranges. The median price estimate gives the potential for a 47% increase from the current price of $125.56. The analysts have a BUY recommendation for Alibaba stock based on these recommendations.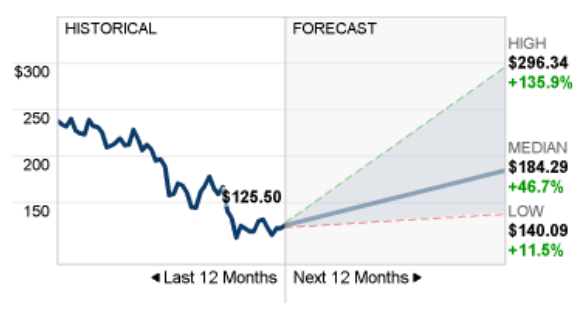 However, investors must take the upcoming earnings report into account in making an immediate investment decision. Any price declines may be better opportunities to secure Alibaba stock at lower prices, as the company's fundamentals on the financials side of things remain strong.
Will Alibaba go up? There is good potential for the stock to recover from its downtrending prices.
Alibaba Stock Forecast 2022
The Alibaba stock forecast for 2022 indicates a potential for a recovery. The stock lost 54% in 2021 under pressure from Chinese regulators. However, an analysis of the pattern of losses shows that the most significant price drop occurred in the early quarters of 2021 (44% and 37%), while the last three months showed a price drop of 27%. In 2022, the price has primarily been range-bound, confined by 109.97 below and 129.88 above.
The pointers are that the correction may have slowed, even though the emerging bearish flag pattern suggests that things could be worse before they improve. A miss in revenue or profits could send the stock lower, but not by much as the expectation of the markets are already low. Conversely, the low expectations mean that an earnings beat would deliver a bullish market response.
So why are analysts bullish about the stock? First, an earnings surprise to the upside would be a good reason for the stock to arrest its downfall. Secondly, Alibaba'sAlibaba's fall is not related to the company's financials. Instead, it occurred basically because of pressure from Chinese regulators after a controversial speech by Jack Ma in October 2019 that was critical of the ruling party's economic policies. The company has taken steps to insulate itself from this factor by swapping some of its Chinese-listed stocks using an ADR float that raised the amount of stock that trades in New York. So there is an expectation that the company can navigate itself around the current local situation and get back to its former heights.
Investors who want to take advantage of the analysts' predictions may be best served to watch the earnings report before deciding, as this report could set the tone for the Alibaba stock forecast 2022.
Alibaba Stock Forecast 2025
The Alibaba stock forecast 2025 outlook looks even more positive than its 2022 outlook. As a result, the Alibaba stock forecast for 2025 is bullish, in my opinion. By 2025, it is expected that there would have been a significant substitution of the component of its revenue it derives from the Chinese market.
Cainiao, the logistics business which Alibaba is currently growing, is expected to start making a significant imprint on the global scene via its deployment of smart technologies and AI-driven infrastructure. It aims to reach a customer base of 1.2 billion people, with substantial additional from the international market.
 Furthermore, the growth of new business could expand Alibaba's revenue streams. Developing partnerships with local companies give Cainiao penetration into Turkey, Pakistan, and Southeast Asia. Projections are for Cainiao to compete favourably with FedEx and DHL between 2025 and 2028. A combination of these factors enhances our Alibaba stock forecast 2025 outlook.
Is Alibaba a Good Stock to Buy?
In my opinion, Alibaba remains a stock that should form part of an investment portfolio for the long term. The company's cash flow growth remains undervalued. Despite many problems with the Chinese Communist Party, the company remains a poster child for the regime in terms of the success of the CPC's model of allowing a free-market economy in an atmosphere governed by a communist regime. It is unlikely that the Chinese government will apply a chokehold that will lead to the company's demise.
Alibaba is expanding its operations in Southeast Asia, where e-commerce growth is occurring rapidly. The company's penetration into growing markets in Malaysia, Indonesia, and other Southeast Asian markets will form an essential component of its revenues going forward, thus insulating it further from the local political influences.
Summary
Alibaba stock forecasts are bullish and institutional analysts have recommended a BUY. But the key question is: when is the best time to buy and at what price? Investors need to wait for the earnings call on 24 February before making an informed decision.
Alibaba: Weekly Chart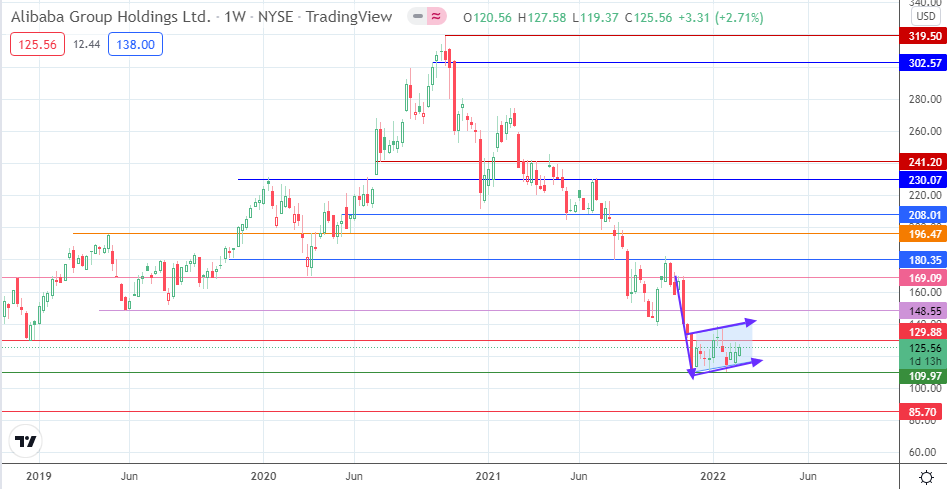 Follow Eno on Twitter.