The Algorand price is on track to finish 2021 with a +200% gain. Here, we discuss the outlook for ALGO for the next 12 months.
Like many cryptocurrencies, Algorand (ALGO) got off to a flyer in 2021, adding around 300% before the May crash took hold. However, the second altcoin season of the year lifted Algorand to a +600% year-to-date high of $2.99 in November. But since then, Algorand has lost more than half its value and currently changing hands at $1.34.
Despite the recent weakness, 2021 has been a success story for Algorand. The proof-of Stake Blockchain protocol's market cap has grown from $500 million at the start of the year to approximately $8.7 billion, ranking ALGO the 23rd most valuable cryptocurrency. The network has experienced considerable growth and adoption in 2021. DeFi and stablecoin giant Circle is currently developing solutions on the Algorand chain. Furthermore, the El-Salvadorean Government, which recognised Bitcoin as a legal tender earlier this year, has chosen Algorand as the backbone of the nations blockchain infrastructure. In conclusion, Algorand's longer-term fundamentals are constructive. But what does the chart tell us?
ALGO Price Forecast
The weekly price chart shows the Algorand price remains in a long-term uptrend. However, the reversal from the November high has forced ALGO below the 50-Week Moving Average (WMA). As a result, the token is now grappling with the significant 100-WMA at $1.29.
The 100-WMA provided considerable price support during the cryptocurrency market weakness over the summer. Notably, although Algorand traded below the long-term Indicator, the price held above it on a closing basis. Therefore, the outlook remains bullish if ALGO maintains a weekly closing price above the 100-WMA. In that event, the long-term uptrend is in danger of breaking down, potentially targeting the lowest weekly closes of the summer, aligned with the 200-WMA at $0.796. Furthermore, a close below the 200-WMA could encourage a much steeper decline.
On the other hand, if Algorand recovers the 50-WMA at $1.497, the long-term technical outlook will improve drastically. Successful clearance of $1.497 clears the path to $2.00 and potentially towards the September highs around $2.50.
Whilst, Algorand is well-positioned to grow in 2022, I expect the crypto market to remain volatile for the next 12-months. On that basis, buying dips towards the significant support levels is preferable to chasing rallies.
Algorand Price Chart (Weekly)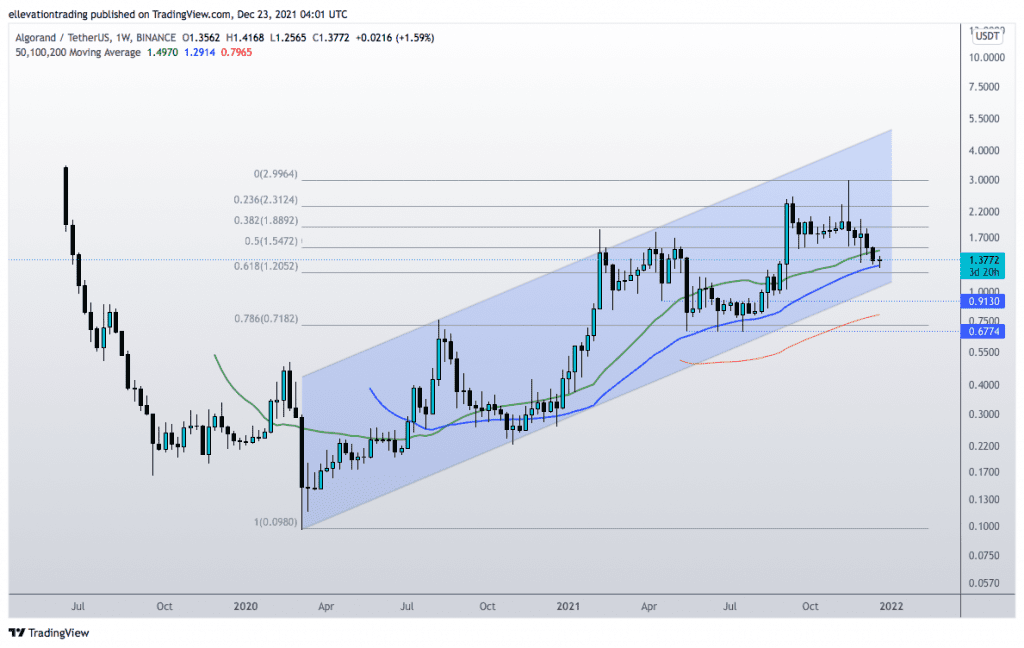 For more market insights, follow Elliott on Twitter.