Food delivery companies were meant to change the world. However, most of them, including Uber, have been punched in the face. In India, Zomato (NSE: ZOMATO) share price has collapsed by over 60% in the past 12 months. As shown below, other companies in the industry like Deliveroo, DooDash, and Just Eat Takeaway have plunged by over 65% in the same period. They have all underperformed key indices like the Dow Jones and Nifty 50.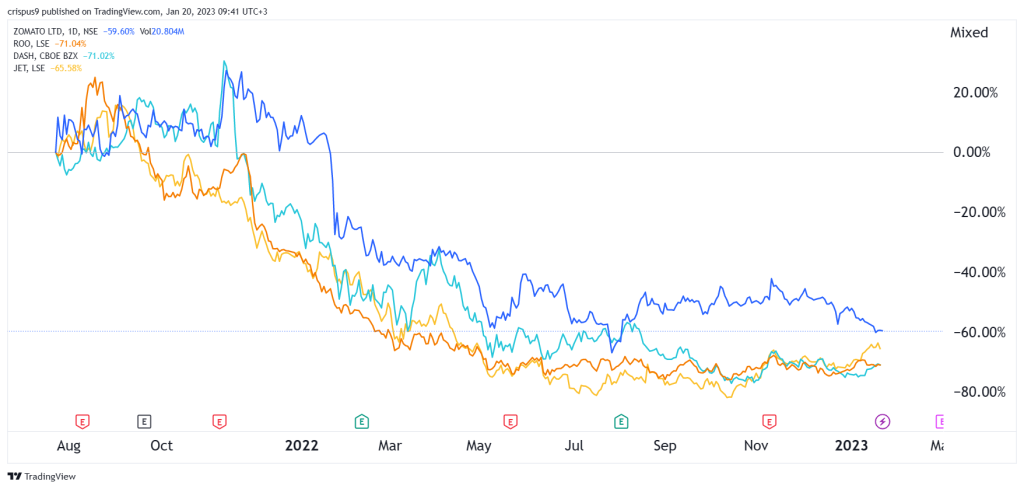 Zomato faces headwinds
Zomato and other food delivery companies are contending with numerous headwinds facing the industry. The most important challenge, especially for Zomato, is the rising competition in the Indian market. Its biggest competitor is Swiggy, a company that has raised $3.2 billion from investors like Kotak Mutual, Axis, and Qatar Investment Authority. Other top competitors in the industry are Food Panda, Uber Eats, and Eat Fit.
Another challenge facing Zomato is the relatively slow growth in the industry. Food delivery boomed during the pandemic and then eased in 2022 as the country emerged. We have seen similar trends in other countries like the US and the UK. People are now more open to eating out instead of using food delivery apps. Besides, the cost of living remains at an elevated level in India and other countries.
In a note, analysts at HSBC warned that the company will publish weak quarterly results as it faces a myriad of headwinds. Another challenge is that the company is now having to pay its riders more money, which is impacting it business. The most recent results showed that the company's loss for he fiscal second quarter came in at 251 crore while its revenue growth was about62%. The firm's loss in the same period in 2023 was about 450 crore.
Implications for Zomato share price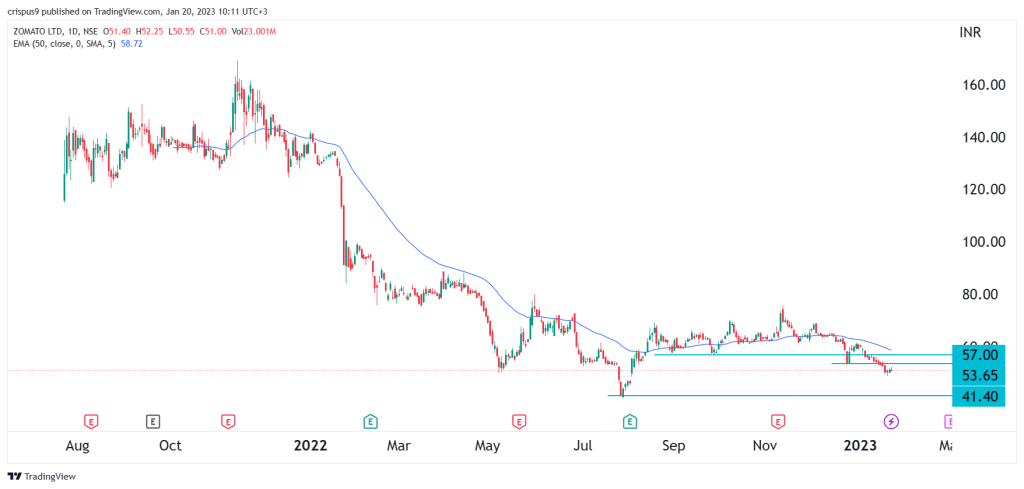 Zomato shares continued retreating this week amid rising concerns about the company and after the HSBC downgrade. It crossed the important level at 57 INR, the lowest point on September 27. The shares also dropped below 53.65 INR, which was December's lowest point. Further, the stock crossed the 50-day moving average, signaling that bears are in control.
Notably, the stock has formed a small head and shoulders pattern. Therefore, the next reference level for Zomato stock is 41.40 INR, the lowest point in July 2022, which is also the lowest level on record. It is about 20% below the current level.
On the flip side, buyers need to overcome the resistance at 57 INR to overcome the selling pressure. Above this level, it means that buyers will have the impetus they need to push the stock to the important resistance level at 65 INR.