Zomedica is a veterinary health company that focuses on producing point-of-care diagnostic and therapeutic products for pets. The short squeeze on meme stocks as identified by Reddit subgroups brought the company into the search beams of retail investors, raising its volatility and putting it within the top 30 traded stocks among Robinhood App's top 100 stocks.
As a major player in the pet testing market, which is growing at a rate of 8.5% per annum, this stock will provide many trading opportunities due to its increased volatility.
Zom Stock News
The earnings report of 25 February 2022 will constitute a ZOM stock news of interest. The only significant news of note after the retirement of erstwhile CEO Robert Cohen back in October 2021 was the recent press conference by the new CEO, which provided an update on the progress of new diagnostic assay developments.
Will Zom Stock Go Up?
Zomedica's share price has been in a slump for the major part of 2021.
Get more Shares news.
The new year has not brought any significant changes in fortune. This has got many asking: will the Zom stock go up? To answer this question, it is pertinent to analyze the overall performance of the stock in the last year.
Zom stock has traded in a 52-week range with $2.91 as the ceiling and $0.24 as the floor. It is presently trading at $0.31 as of writing, closer to its 52-week bottom. The current price is testing the support formed by the Q4 2019 price at 0.3048, which has so far held firm. Only when there is bullish momentum on the stock can we see some rallying, even if for a short time.
There is potential for a short term uptick in the Zom stock price, especially as the active weekly candle is mildly bullish. The relative strength index is relatively oversold and has been for quite some time. A mild divergence also supports the notion of a slight recovery in the Zom stock price in the near term. However, this may only be a rally that provides selling opportunities.
Zom Stock Forecast 2022
What is the Zom stock forecast for 2022? The Zom stock forecast 2022 is a medium-term forecast that aims to predict the Zom stock price in the next few months. Following the completion of the double top on the weekly chart, price action is now trading around the measured move's completion zone.
The 0.0631-0.3048 price mark is an attractive price zone for buyers. For those with a more conservative mindset, it may be best to wait and see if there will be a breakdown of the current support, allowing the price to bounce off the next pivot at 0.0631 before following this bounce to the upside. A more aggressive approach will preempt a bounce at current levels as price corrects the developing divergence. This approach will view 0.4968 as the first target to the upside before 0.6940 (11 February 2019 and 10 May 2021 lows) becomes an additional target.
Of course, both projections will become null and void if the price descends any lower than 0.0631, in which case the price would be chasing new all-time lows.
Zom Stock Forecast 2025
The Zom stock forecast 2025 retains the bearish outlook that has permeated the stock for the latter part of 2021. There aren't positive fundamentals to suggest a change in sentiment. Any rallies would be purely speculative and would only provide opportunities for traders looking to make huge gains by shorting the stock.
ZOM: Monthly Chart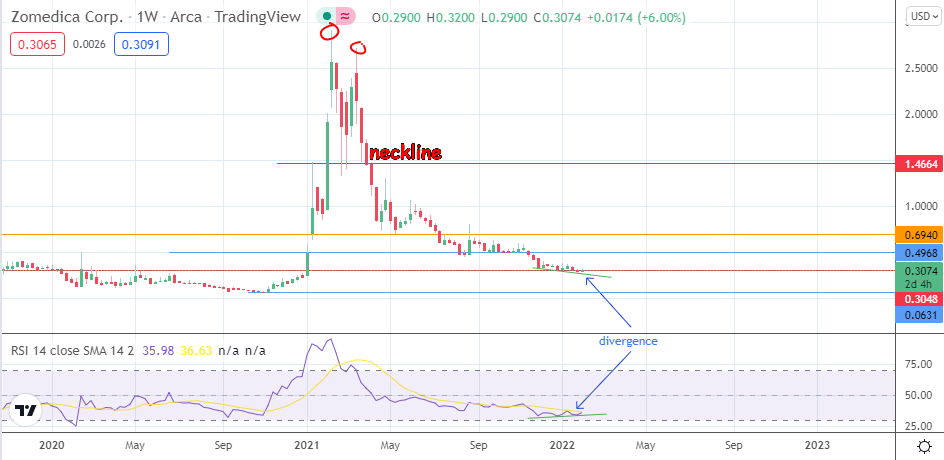 The monthly chart shows that the RSI still has room to head into the oversold region, while there is a lack of good buying volume. Indeed, trading volumes are fragile. The current support at 0.3048 remains the only factor holding price activity from declining further.
Zom Stock forecast 2030
If you have a long term view and want to get some insight via the Zom stock forecast 2025, then this is where it gets interesting. CEO Larry Heaton recently delivered an address where he outlined the company's strategy for driving sales of Truforma. This is to be based on three pillars:
placing instruments without requiring upfront capital as part of a customer appreciation program
leveraging on the MyZomedica portal to drive utilization
launch new assasy in conjunction with a partner, and introduce these assays into the existing user base.
Assays for TSH, TT4, and Cortisol, used in testing adrenal and thyroid function in dogs and cats, are already on the market. Several others are in development (fT4, ACTH, folate, Cobalamine and equine Cortisol), while opportunities for expanding testing in a more broad-based Point of Care lab portal have been identified.
If these all kick in and translate into some concrete increases in revenue in the years before 2030, then the Zom stock forecast for 2030 could be bullish.
You may decide to pick up some of the stock with amounts you can afford to lose and ride out the storm for the next eight years if you believe that the Zomedica stock forecast for 2030 will be bullish.
Is Zom a Good Stock to Buy
ZOM stock could provide some good gains in the long term if its veterinary diagnostic and therapeutic technologies can gain sufficient market traction. However, the stock remains a speculative investment that owed its previous tops to the Reddit meme that lifted other stocks like GameStop and AMC.
Look at the financials of the company. It only made $22,514 in the third quarter of 2021. The nine months preceding that period only yielded $52,331 in revenue, with a colossal loss of $15.1 million. So, where was the money going? Part of it went into acquiring Pulse Veterinary Technologies (PulseVet) at $70.9 million.
How PulseVet is supposed to help Zomedica ramp up its sales numbers remains a mystery. There is only one takeaway from this: Zomedica is losing money, and its stock is down in the dumps.
Without any precise information on how sales of its Truforma platform or the sound-wave technological devices from PulseVet would enhance revenues, any upside moves on Zom would be pure speculation.
If your aim is value investing, Zomedica Corp is not your stock. If you are a pure speculator, you may decide to catch any rally moves within the context of an overall bearish outlook for the stock. However, recent events captured in the latest press conference provided by the CEO could offer a long-term bullish Zomedica stock forecast.
Summary
Growth stocks will take some beating, which will be in the current market picture. Moreover, the environment is an imminent monetary policy tightening, so growth stocks like Zomedica may suffer in the short and medium-term before recovering in the long term.
ZOM: Weekly Chart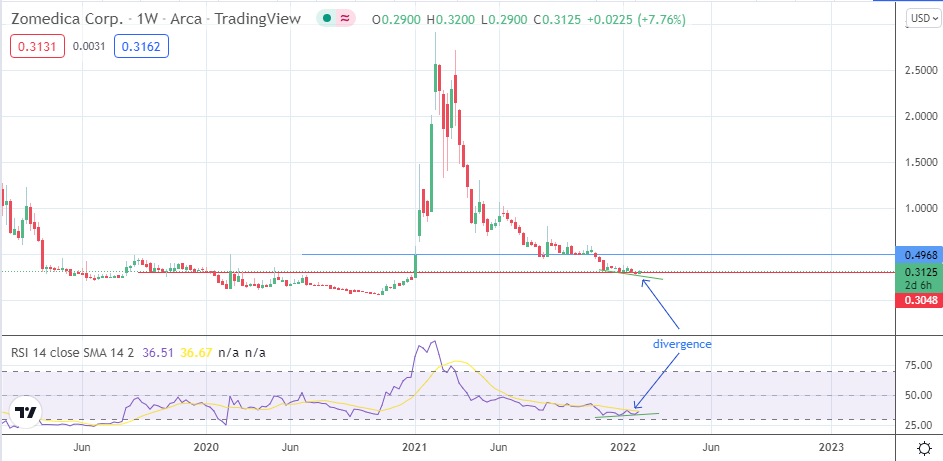 Follow Eno on Twitter.