XRP20 price has become a matter of debate among the presale investors. The project has finally sold out its presale allocation, raising $3.68 million. There is great hype about the project on different social media platforms. However, many investors are overlooking some serious red flags.
During the XRP20 presale, the coin was available for $0.000092. After the conclusion of the presale, the project is on track for a DEX listing at a later date. While many memecoin enthusiasts have invested in the self-proclaimed next Ripple, many few understand the underlying risks.
XRP20 Presale Is Over
If you are still looking to join the presale of XRP20, then you are late to the party. According to the official website of the project, the presale is finally over after hitting its hard cap of $3.68 million. Presale buyers are now eagerly waiting for the listing on a decentralized exchange to cash out some gains.
XRP20 price depends on the how much liquidity the team adds on Uniswap on the listing day. In case of an inadequate liquidity, the price may drop very quickly. However, the low liquidity might get offset if enough new buyers show up to save the day.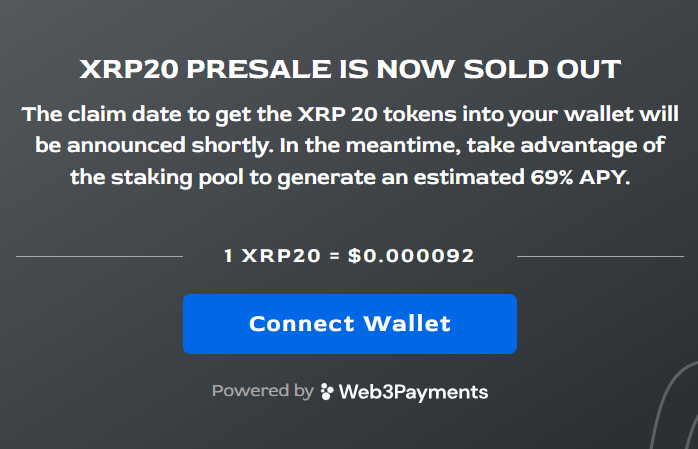 XRP20 Price Prediction After Listing
A look at the project's official website reveals that the XRP20 is just a memecoin which lacks any fundamentals. While the project markets itself as the next Ripple (XRP), there is no similarity between the two projects whatsoever. Considering the recent launches of the memecoins, my XRP20 price prediction is not very bullish.
Considering the social media hype, the XRP20 coin may still have a short term positive price action. However, any prolonged bullishness is not expected as the memecoin market is being diluted with new coins popping up every day.
I'll keep posting my updated XRP20 analysis and upcoming 1000x gems on my Twitter, where you are welcome to follow me.