XRP20 price is set at $0.000092 during its presale stage. The project associates itself with the popular cryptocurrency Ripple by giving its references in promotional campaigns. However, there is no official connection between both projects, and one must invest in XRP20 presale only at their own risk.
Altcoins are once again experiencing a bearish sentiment as the BTC price has failed to show any strength. The biggest cryptocurrency has been stuck within the $28.5k-$31.5k trading range for almost two months. This frustration is making it harder for the projects like XRP20 to raise capital.
What Is XRP20 Coin?
XRP20 seems to be just another memecoins that wants to ride the wave of increased investor interest in Ripple (XRP) after its court win. According to the project's official website, the project has raised $1.93 million out of its hard cap of $3.68 million.
As the coin is still in the presale, the exact XRP20 price will depend on the market demand after its DEX listing. The team plans to launch it on the decentralized exchanges as an ERC20 token. The staking is also a part of the roadmap at a later stage.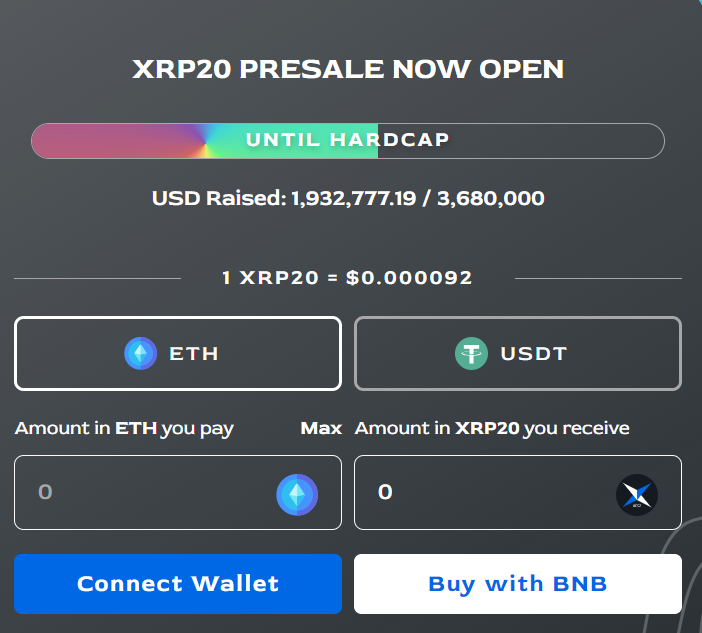 XRP20 Price Prediction
Since the success of the PEPE coin, hundreds of new memcoins have been popping up every day. Most of these coins have very little or no fundamentals and appear to be cash grabs. XRP20 coin appears to be another one on this long list. The project is luring people in its presale but showing them the historic gains of XRP since its launch.
Due to these factors, my XRP20 price prediction is extremely bearish. However, if the XRP army adopts the project, then things may change. Till now, there is no hype for this project, and it has a very little social media presence. It has only 759 followers on Twitter.
I'll keep posting my updated XRP20 analysis and upcoming 1000x gems on my Twitter, where you are welcome to follow me.