The WOO Network price has increased in the last two days as investors take advantage of the recent weakness, but obstacles remain.
WOO Network (WOO) is attempting to form a base following the heavy losses in November. But despite the Token improving almost 40% from this month's low, WOO is nearly 55% below the November all-time high. As a result, WOO's market cap has dropped from a high of $998 billion last month to around $470 million at the current price.
Furthermore, as I write, the cryptocurrency market has turned lower after Singapore announced they will shutter the Binance Crypto exchange on February 13th. Subsequently, Bitcoin has dropped $1,700 in the last hour, which may derail WOO's recovery attempt.
Price Analysis
The daily chart shows the Token is supported between $0.600-$0.650, although struggling to clear the $0.800-$0.850 area.
Furthermore, WOO is rolling over in early trading Monday due to BTC's weakness. Subsequently, if the price fails to clear $0.8500, it could return to the December 5th low around $0.600. On the other hand, if WOO Network punches through resistance, an extension towards the Dec 1st high of $1.200 looks likely.
Considering the general weakness this morning, I favour the bearish scenario. In my opinion, as long as the price stays below $0.850, the outlook is negative. However, a close above that level invalidates the bearish view.
WOO Network Price Chart (Daily)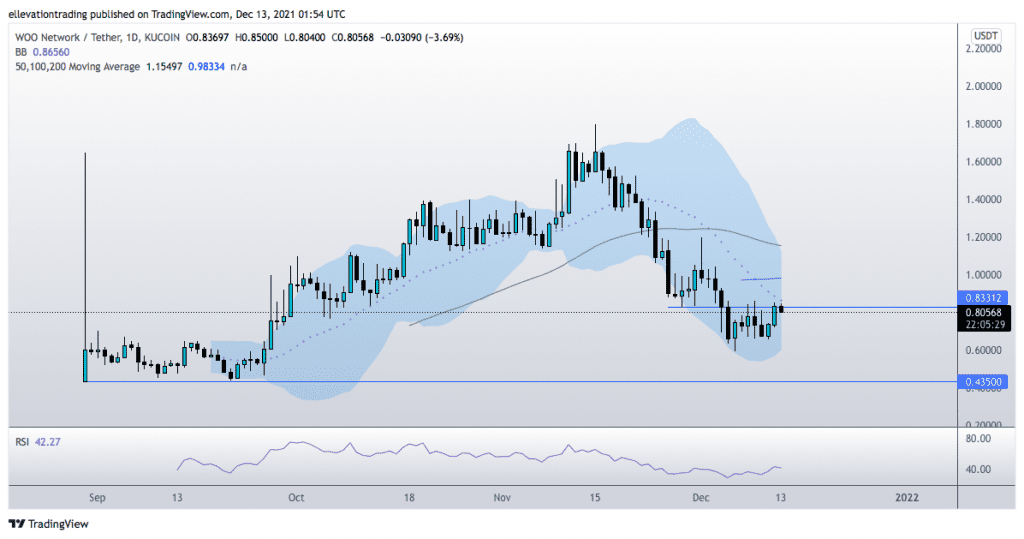 For more market insights, follow Elliott on Twitter.