The EOS price has drifted lower in the last few days as investors rotate capital into Bitcoin ahead of a possible ETF approval. Following a strong rebound from the late September low, Eos (EOS) looked set to recoup the losses it suffered in the final three weeks of last month. However, this week, altcoins have fallen out of favour and continue to lose ground to Bitcoin (BTC), which printed a 5-month high of $57,500 yesterday.
A logical reason for BTC's outperformance is the growing belief that the Securities and Exchange Commission (SEC) will soon sign off on the first US-listed bitcoin-based ETF. Usually, EOS enjoys a relatively strong correlation with the market leader. Of course, at times, the EOS price dislocates and often overshoots in both directions. However, prices rarely head in the opposite direction for an extended period, which could be concerning. If altcoins are underperforming Bitcoin on the way up, they could well underperform if Bitcoin turns lower. However, this may provide an opportunity to accumulate EOS at a relatively attractive price.
Price Forecast
The daily chart shows the EOS price is trading at $4.41, around 20% above the September low. Despite this, EOS is 30% below the early-September high of $6.54. Furthermore, a trend line from $6.54 is capping the price at $4.95. Notably, EOS is below the 50-day moving average (DMA) at $4.74, and the 100, at $4.51. Additionally, the Relative Strength Index (RSI) is rolling over and shows bearish momentum.
The EOS price should extend towards the July, $3.00 low, considering the mounting bearish momentum. As the chart highlights, dips into the $3.00-$4.00 range have proven a good entry point to establish longs since February. Therefore, buyers may emerge on further weakness. However, for now, the path of least resistance is lower, potentially targeting $3.00. However, successful clearance of trend resistance at $4.95, invalidates the bearish thesis.
EOS Price Chart (Daily)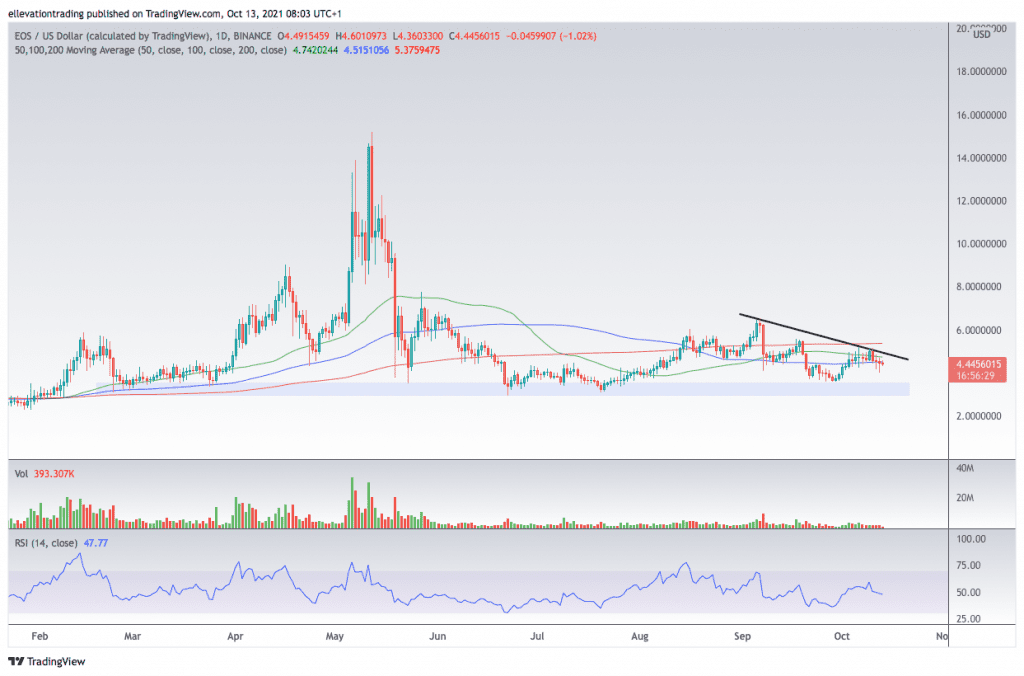 For more market insights, follow Elliott on Twitter.