The last few months have been tough on aviation stocks. However, Easyjet (LON: EZJ) shareholders have suffered more than most. The EasyJet share price slumped to its worst three-day performance since March last week on news of a rights issue and a rejected takeover bid. Coming into last week, the share price was already down around 30% from the May high. However, by Friday's close, that was closer to 40%, and unfortunately for the longs, it may get a lot worse this week.
Last week, the budget airline dropped not one but two bombshells on the market. Firstly, Easyjet rejected a takeover offer from an unnamed suitor (although reports suggest the likely bidder was Wizz Air). Secondly, the company announced plans to dilute shareholders with a £1.2 billion rights offer.
As expected, investors bailed in droves, sending the Easyjet share price sharply lower. As a result, EZJ ended the week ominously perched on a major support level. Furthermore, early indications suggest the price will open this morning below the substantial support, which will likely lead to even more losses.
EZJ Price Forecast
The daily chart shows that EasyJet ended Friday at 680.8p, just above major trend support at 678p. This morning, it's likely the price will open below the trend, and that should force long liquidations. An obvious but apocalyptic target is the October 2020 lows around 450p. And despite that being around 30% below Friday's close, it's more than possible.
Below that, the March 2020 pandemic low at 410p follows, and should that give way, it's hard to say how much more the price can fall.
For now, investors should stand aside and see how the EasyJet share price performs in the coming days and weeks. My view is that the price could accelerate on the downside from here and get into an oversold position. And if that happens, the shares may reach an attractive price.
That view remains valid until EZJ climbs above the 200-day moving average, which at 892p is way above the current price.
EasyJet Price Chart (Daily)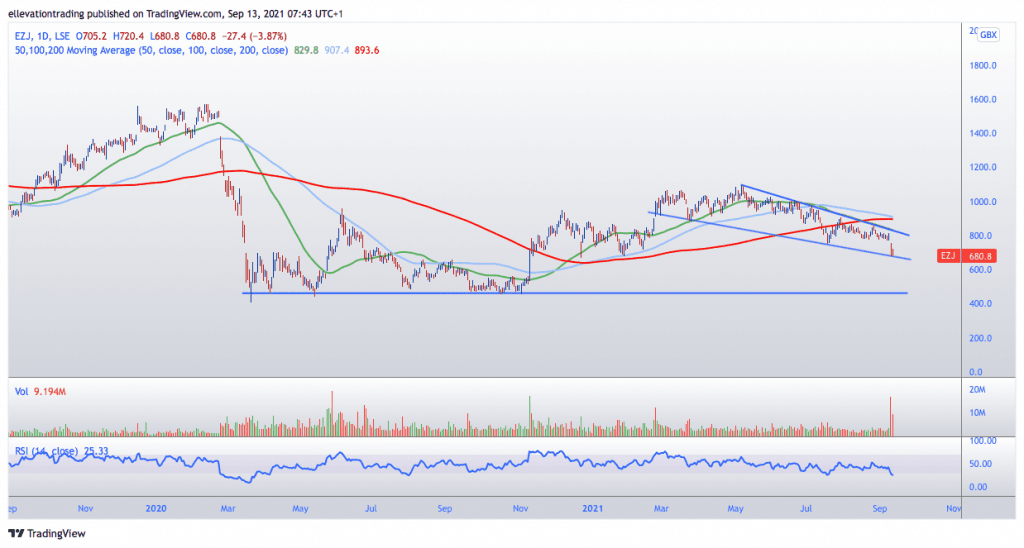 For more market insights, follow Elliott on Twitter.