Why is the Royal Dutch Shell share price B trending upwards on the day even with declining crude oil prices? The reason has to do with a company situation instead of a systemic response to the fall in crude oil prices.
The company's share price rose on Monday following the decision to move its corporate headquarters back to London. The oil giant's tax base is also being moved from the Netherlands to London. This decision will also result in a name change, with the firm dropping the "Royal Dutch" prefix. 
Investors appear pleased with the decision and bought more of the company's stocks than were sold, resulting in a 0.75% price increase as of writing this Monday. The stock was trading higher than 1.5% at a point, but has lost some of the intraday gains as crude oil prices exert some pressure on the stock.
Royal Dutch Shell Share Price Outlook
The bulls need additional momentum t to surpass the previous highs of Tuesday 9 November if the 1713.4 resistance target is to be achieved. This level is the site of prior tops seen on 5 October and 29 October. The 8 November high at 1720.00 may also provide additional strength to this barrier. If both are uncapped by the bulls, there will be clear skies to push towards 1785.4 (14/27 October highs). 
On the other hand, a decline below the 12 November lows allows the bears to push the price action towards 1628.2, where a retest is expected. If the bulls fail to defend this pivot, a new support target emerges at 1587.0. Below this, 1521.6 is the next target if the corrective decline continues. This portion of the outlook would be in keeping with crude oil price declines.
Royal Dutch Shell: Daily Price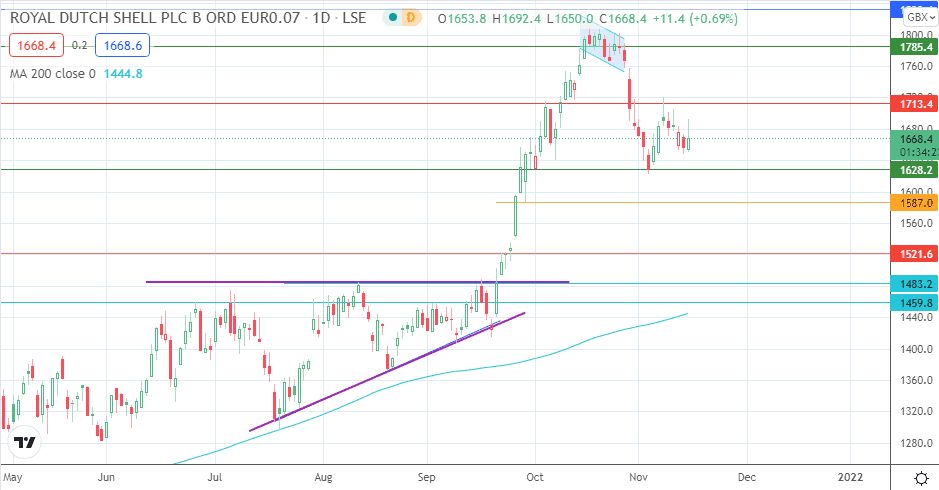 Follow Eno on Twitter.