The Apple share price continued in its corrective mode, as traders continued to take profits following the stocks stellar performance for the greater part of 2021.
Apple is currently trading at 147.19, down 0.64% even as it prepares to release its new range of the iconic iPhone and iPad devices. This release will see the entrance of 5G-enabled devices and a new Apple Watch Series 7. The iPad mini 6 is also another product that is set to hit the market in the coming days, following the conclusion of Apple's September iPhone 13 event.
So why is the Apple share price falling? There could be two possibilities. One is that the designs of the new iPhone 13 and other devices may not have wowed market watchers. Secondly, some large-volume traders who bought the stock earlier in the year may have decided to take profits. Here is what the near-term Apple share price outlook could look like.
Apple Share Price Outlook
The decline in the Apple share price is testing support at the 147.46 price level. A breakdown of this area makes 145.08 available, with 139.97 and 137.93 tagging closely behind as additional downside targets.
On the other hand, a recovery move that restores the uptrend only follows a break above 157.18. This move is contingent upon the bulls initiating a break of 151.74, following from a potential bounce at the current support or at least at the 145.08 price mark.
Apple Share Price (Daily)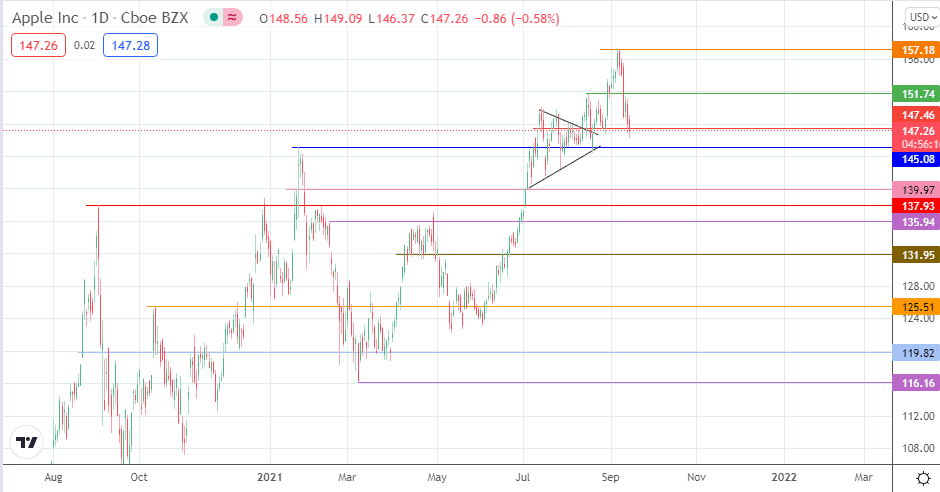 Follow Eno on Twitter.