Wall Street Memes (WSM) price remains $0.00337 in its final presale stage. The coin is getting ready for an exchange listing very soon. According to the official website, the WSM crypto will be launched on a tier 1 exchange after 7 days from now.
On Monday, altcoins are showing minor gains as Bitcoin surged above $26,700. The pioneering cryptocurrency was trading 0.15% higher till press time. While the conditions may not seem to be ideal for a new memecoin launch, WSM holders still remain optimistic.
WSM Crypto Launches In 7 Days
Despite all the hype on Twitter, Wall Street Memes coin is still not trading on any exchange. All the exchange pairs currently listed on DEXs are fake or scam. As per the team, the real WSM coin will be listed on an exchange in seven days. The presale investors eagerly await the listing as they expect astronomical returns, but there's a catch.
The project is a brainchild of a Twitter account named Wall Street Memes. Many analysts are calling the memecoin a cash grab as it lacks any fundamentals or utility. Nevertheless, many memecoin enthusiasts remain bullish on the project, expecting a PEPE coin-like return.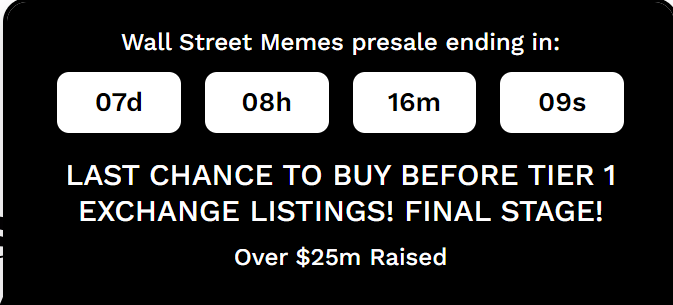 Wall Street Memes Coin Price Forecast
Considering the total supply of 2 billion coins, $0.0337 seems to be a very high price for a presale. This puts the fully diluted market cap of the memecoin project at $67.4 million before the launch. Due to this reason, the long-term Wall Street Memes coin price prediction is not looking very bullish to me.
However, due to the social media hype, an initial surge in WSM price can't be completely ruled out. A major factor affecting the price action would be the Bitcoin price. In the event that the BTC price takes a nosedive, it won't be logical to expect memecoins to perform well.
In the meantime, you are also welcome to follow me on Twitter to keep track of my personal trades and the next 1000x Gems.