Wall Street memes (WSM) price is set at $0.0337 during its presale. The exchange listing of the memecoin is approaching amid growing hype on social media. While the presale buyers are expecting guaranteed returns after the launch, there's still a catch.
On Monday, Bitcoin is continuing its sideways price action. At press time, the most valuable digital asset is changing hands at $25,626. The market conditions don't seem ideal for a new memecoin launch, but things may change soon in case of a major Bitcoin move.
WSM Crypto To Launch In 15 Days
According to the official website of the Wall Street Memes coin, the project will be launched on a tier 1 exchange in 15 days and 22 hours. While the name of the exchange is still not revealed, there are a few things worth considering before the big day.
As mentioned in my previous analysis of WSM crypto, the coin is readily available at a cheaper price before even its exchange listing. This makes it wonder who would buy it after the listing. Usually, the coins that do well after their exchange listing are the ones that most investors couldn't buy in the presale.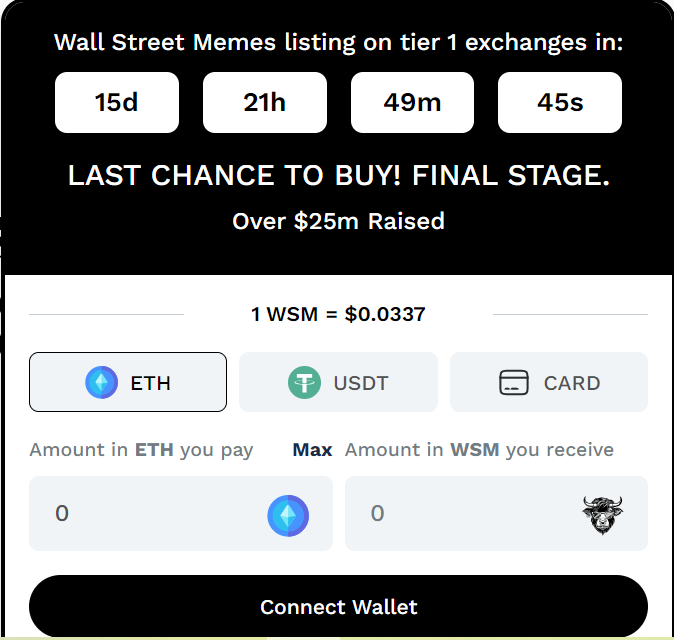 Wall Street Memes Price Prediction After Listing
While the WSM coin doesn't appear to be a scam, it still appears to be a cash grab. The presale price seems to be very high considering the recently concluded memecoin sales. The project is selling 1 billion coins during the presale to raise $33.7 million, which is an insane valuation for a project without any fundamental value.
The long-term Wall Street Memes price prediction seems to be very bearish, considering its total supply of 2 billion. However, there can still be some price growth during the initial days as the short-term traders speculate.
In the meantime, you are also welcome to follow me on Twitter to keep track of my personal trades and the next 1000x Gems.