Wall Street Memes (WSM) coin is an upcoming memecoin project from one of the popular crypto meme accounts on Twitter. WSM crypto has gained a lot of hype on social media due to the community's interest in the memecoins. However, you must know a few important things before investing in the project.
The memecoin season appears to be at its final stages as the recently launched memecoins haven't performed very well. This makes me skeptical about WSM, which boasts 1 million followers across different social media platforms. The current crypto market conditions are also not ideal for new memecoins to be launched.
WSM Crypto Raises $25 Million
Wall Street Memes coin is set at $0.0337 in its presale. According to the project's official website, it has entered into the final presale stage after raising more than $25 million. This is a lot of capital for a memecoin project, which holds no fundamental value.
Many veteran crypto analysts are also calling the project just a cash grab as the memecoins don't usually need a lot of capital. Nevertheless, the presale buyers remain bullish on WSM crypto and expect it to outperform PEPE. You can also take part in the free WSM airdrop worth $50,000 by taking part in a lucky draw.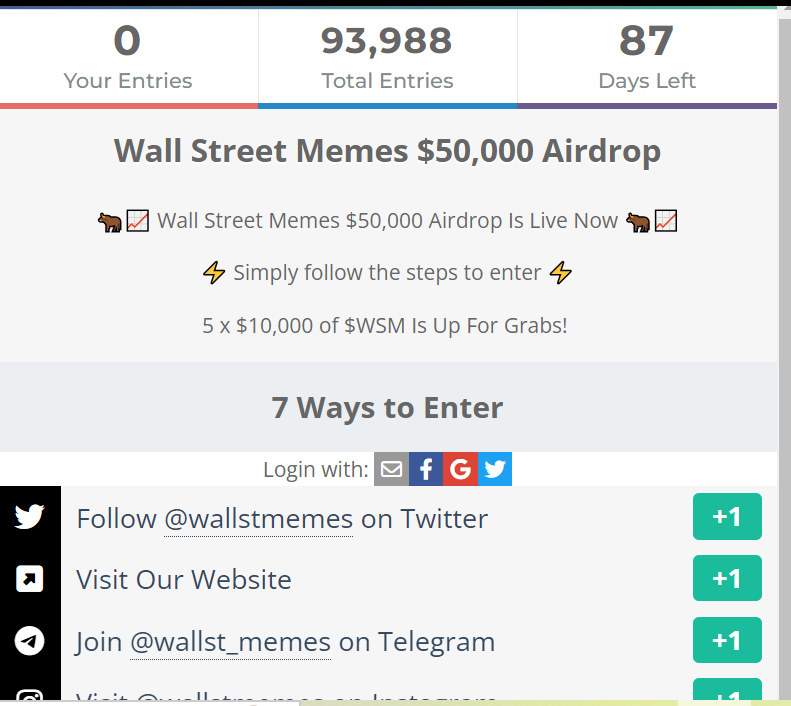 Wall Street Memes Coin Price Prediction
Out of the total supply of 2 billion WSM coins, 1 billion are available in the presale. The current presale price of $0.0337 already put the market capitalization of the project at $67.4 million, which is very high for a newly launched memecoin.
Wall Street Memes coin price prediction is not looking very bullish to me as I don't see any many people buying it after the launch. This is because the coin can already be bought during its presale stage, where anyone interested can buy it at a discount.
While the coin may perform well in its initial days due to bot activity and manipulation, in the long term, I'm not bullish. I'll keep updating you about the project after its launch.
In the meantime, you are also welcome to follow me on Twitter to keep track of my personal trades and the next 1000x Gems.