Wall Street Memes (WSM) coin price has become one of the hottest topics among the meme coins community. It is the upcoming meme coin from a well-established social media brand with more than 1 million followers across different platforms.
WSM coin is still in its presale stage, and the team is trying to raise $13.5 million. So far, the project has already raised $12.8 million in ETH, USDT, and BNB. There is a lot of hype for the project on social media, but you must know a few things before apeing into this meme coin.
What Is Wall Street Memes Coin?
Wall Street Memes is a popular Twitter handle that posts memes on crypto and stocks to make fun of Wall Street. It all started with the short squeeze event of Gamestop stock as the retail crowd got united against the sophisticated investors of the Wall Street.
In 2021, Wall Street Memes launched its first NFT collection, which was called Wall Street Bulls. However, this collection has been in a tailspin for the past couple of years, and there is very little or no interest in the project anymore. This raises concerns over the Wall Street Meme (WSM) price once the coin hits the market.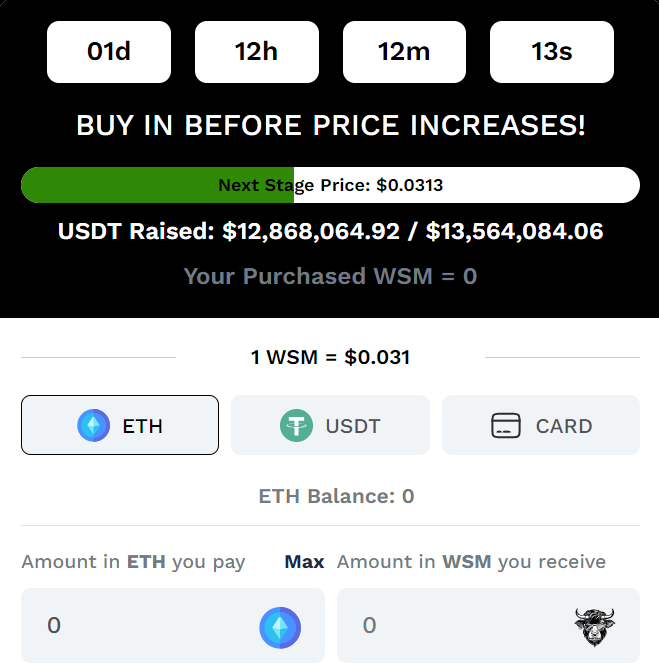 Wall Street Memes Price Prediction
According to the latest details, the project has allocated 50% of the total supply to presale participation. This translates into 1 billion coins out of the total supply of 2 billion. 20% of the coins are kept for the CEX/DEX listings and liquidity provision, and an additional 30% will be distributed as community rewards.
Wall Street Memes price prediction depends on many factors. Currently, the presale price of Wall Street Memes coin is 0.0313. The presale price increases with time, and the next increment will occur after one day and 12 hours from now. The current presale price puts the market cap of WSM coin at $31.3 million.
This is a very high market cap for a meme coin. After dilution and emission of new coins it will be hard for the project to generate any substantial returns for the investors. Another cause of concern is that the presale process has been going on since 27th May, and the project is yet to hit its funding target $13.5.