The Vodafone share price is up slightly, trading 0.58% higher this Tuesday after losing most of its earlier gains. The VOD stock had opened with an upside gap, riding on cheery news from the General Assembly Meeting of Vodafone Qatar where a 6% cash dividend was approved for its shareholders. 
In another development, the company says it wants OpenRAN technology implemented in 30% of European telecom masts by 2030. OpenRAN aims to provide more open radio access in telecom network architecture than is currently available and is meant to provide greater network flexibility and improve competition, which ultimately drives down costs.
Vodafone deployed the United Kingdom's first 5G OpenRAN site in Somerset and plans to deploy more than 2,500 OpenRAN systems in Europe. In January 2022, the company also deployed the first European R&D centre that will facilitate chip design for OpenRAN systems. The Vodafone share price has had a remarkable run since the start of the year. It climbed from a low of 113.40 on 4 January to hit a high of 141.60 on 10 February. 
Vodafone Share Price Outlook
Following the completion of the double top on the Vodafone share price daily chart, the intraday decline has formed a pinbar which sits directly on top of the 131.88 support. A bounce from this level allows the bulls to attack the 136.12 resistance. If the bulls uncap this barrier, the next target is the 140.00 psychological price mark (16 February high), and 142.38. Attainment of the latter brings the price activity to 10-month highs. 145.72 rounds off an additional price target to the north which only becomes viable if 142.38 gives way.
On the flip side, a breakdown of the current support at 131.88 allows for an extension of the correction, targeting the 25 February low at 129.36. If the decline is more extensive, 126.28 and 124.04 enter the picture as the next downside milestones in line. Only a deeper correction would bring in 120.26 as a new destination to the south.
Vodafone: Daily Chart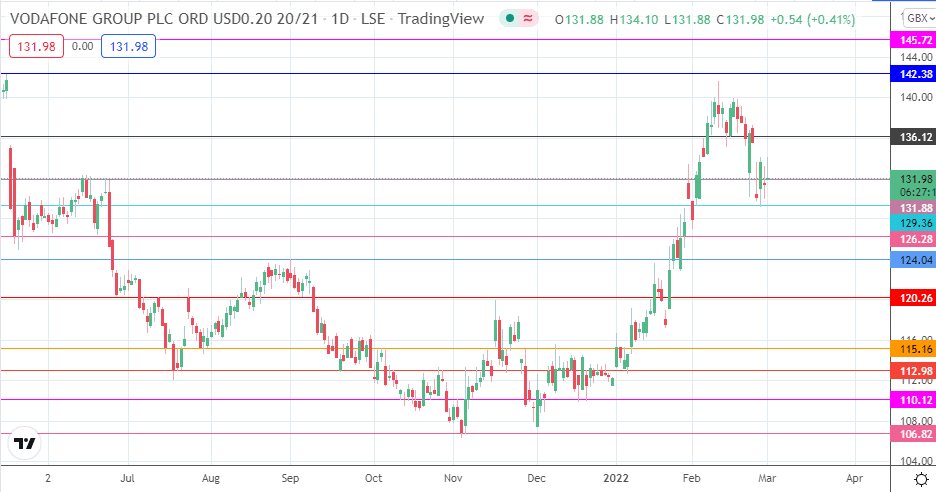 Follow Eno on Twitter.