The Vodafone share price has moved into a consolidation mode in the past few days as investors start taking profit and global tensions rise. The stock is trading at 133.97p, about 3.95% below the highest level this year. It is trading at about 27.93% above the lowest level in 2021.
Vodafone recovery pauses
Vodafone, the giant telecommunications company, has been on an upward trend in the past few months. This performance has also been seen among other telecom companies in the FTSE like BT, TalkTalk, and Virgin. Recently, however, the stock has struggled slightly as investors start to take profits and as the stock hit a strong resistance level.
The consolidation coincided with the recent Q3 earnings published earlier this month. The results showed that the company's service revenue rose to more than €9.64 billion in the quarter. That was a 3.1% increase from the same period in 2021. Its total revenue jumped by about 4.3% to €11.6 billion.
Vodafone attributed its strong performance to the performance in Africa, where it operates in countries like Kenya and Egypt. It launched its VodaPay app, which has more than 1.4 million downloads. Its Vodafone Business revenue offset the strong performance, which rose by just 60 basis points. As a result, the company expects its free cash flow to be at 5.3 billion euros.
Is VOD a good investment?
Vodafone is a good company with a substantial market share in its key markets, such as Germany. However, its global operations make it a bit inefficient, as evidenced by last year's crisis in India. This explains why some activist investors are buying the shares. In February, Bloomberg reported that Cevian and Coast Capital Management had decided to buy the stock.
Coast is still adding to its position while Cevian has talked to management about strategies to boost its operations. Some of the recommendations are increasing its share repurchase program and exiting some of its key markets. For example, Xavier Niel, an Italian billionaire, has announced his interest in the company's Italian unit. Therefore, while the stock has consolidated, we could see more action in the coming months.
Vodafone share price forecast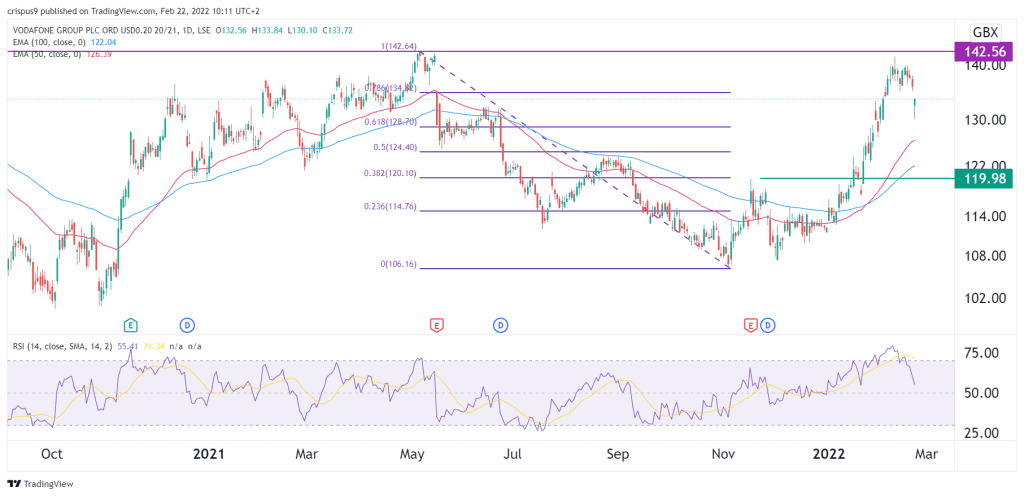 The daily chart shows that the VOD share price has been in a bullish trend since November last year, when it moved to a low of 106p. The rally accelerated when the shares moved above 120p, which was the upper chin of the double-bottom pattern. It was also along with the 38.2% Fibonacci Retracement level.
We see that the stock has been in a consolidation mode recently. A closer look shows that this consolidation happened when it retested 2021 high. The stock is still above the 100-day and 50-day moving averages. Therefore, the pain will likely continue for a while as the worries on Ukraine remain. Still, the bullish trend will remain as long as the shares are above the 100-day MA.