Virgin Galactic stock continues to compress into an ever-tightening range, and In the past, similar patterns have led to extreme volatility. Very rarely does Virgin Galactic (NYSE: SPCE) trade sideways. Since its 2019 reverse merger SPAC deal with Chamath Palipathiya's Social capital, SPCE has been incredibly volatile, I mean Gamestop (GME) level volatile. The stock has fluctuated wildly between single digits and $62.00 over the last two years, but Virgin Galactic has been spookily quiet for the previous month. Experience tells me this lull won't last.
The recent bout of inertia comes off the back of a 300% rally in May and June that peaked at $57.50 following founder Richard Branson's successful trip to inner space. The euphoria was short-lived, and SPCE plummeted after Branson sold $250 million of stock and the Federal Aviation Administration grounded Virgins SpaceShipTwo craft. As a result, SPCE proceeded to drop 60% before finding a low at $23.00 on the 15th of September. In the six trading days that followed, Virgin has inched higher and now trading at $25.85, the same price as the 24th of August.
SPCE price Analysis
The daily price chart shows that SPCE has found support in the $23-$25.00 range over the last week. This area has been a good level of support during the previous 12 months and the catalyst for several material rallies. Additionally, a descending trend line from the July high is visible at $25.80, bang on yesterdays closing price. The trend lines have formed a descending triangle pattern which often leads to an explosive move.
Successful clearance of the descending trend should see SPCE lift off towards $30.00 and fill the gap on the chart from the 11th of August. Furthermore, considering the historical volatility, SPCE could extend to the August highs around $35.00. As long as SPCE holds the support between $23-$25.00, a bullish breakout is my base case for the stock. However, markets are in a state of flux at the moment and vulnerable to liquidations. Therefore, if SPCE drops below $23.00, the bullish argument becomes invalid.
Virgin Galactic Stock Chart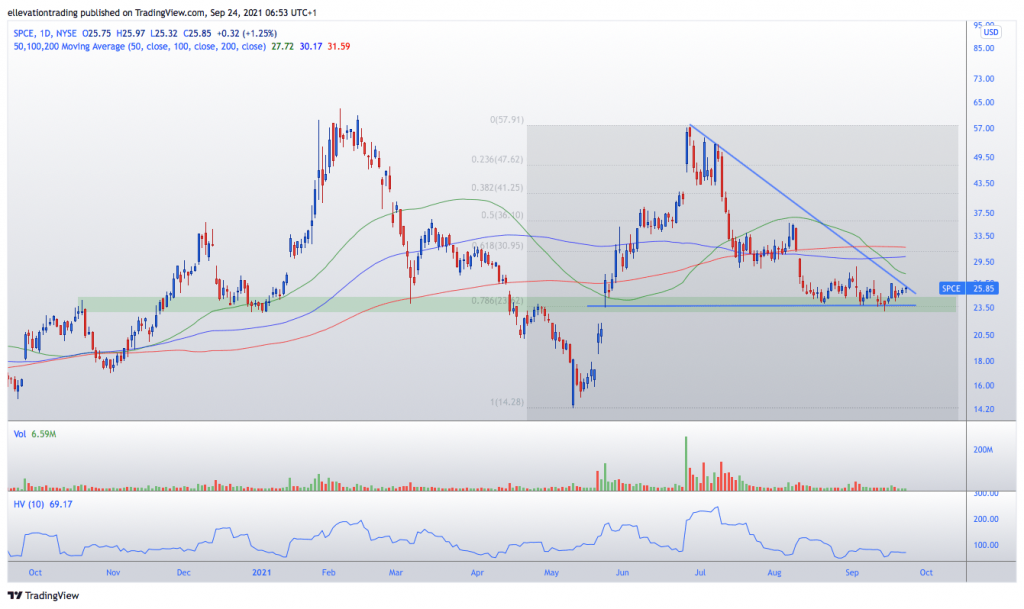 For more market insights, follow Elliott on Twitter.