The US dollar to Turkish lira exchange rate has soared to a new all-time high. It comes as no surprise as USD/TRY is making new highs every day. Today's weakness in the Turkish currency comes despite a 0.09% drop in the dollar strength index.
The DXY Index which is an indicator of the strength of the US dollar against the major currencies, is significantly down from the monthly highs. However, this hasn't resulted in any strength in the lira which remains in a tailspin. On Thursday, the currency fell to its lowest level against the US dollar in its history.
At press time, USDTRY is finding with the round figure of 28. This translates into a 0.19% uptick in the daily timeframe. The price action comes on a day when Fed Chair Jerome Powell is set to take the podium along with his colleagues from the central bank.
While the Fed maintains its stance on keeping the rates same in the upcoming FOMC meeting, investors will still be looking for more clues in Powell's speech. It will be interesting to see how the bond yields and the DXY index react to the remarks from the central bank chief.
On the other hand, Powell's Turkish counterpart, Hafize Gaye Erkan, is optimistic about an increase in the demand for lira assets. According to his latest remarks, the preliminary indicators are showing that the share of lira assets is increasing in the domestic and foreign portfolios.
USD/TRY Chart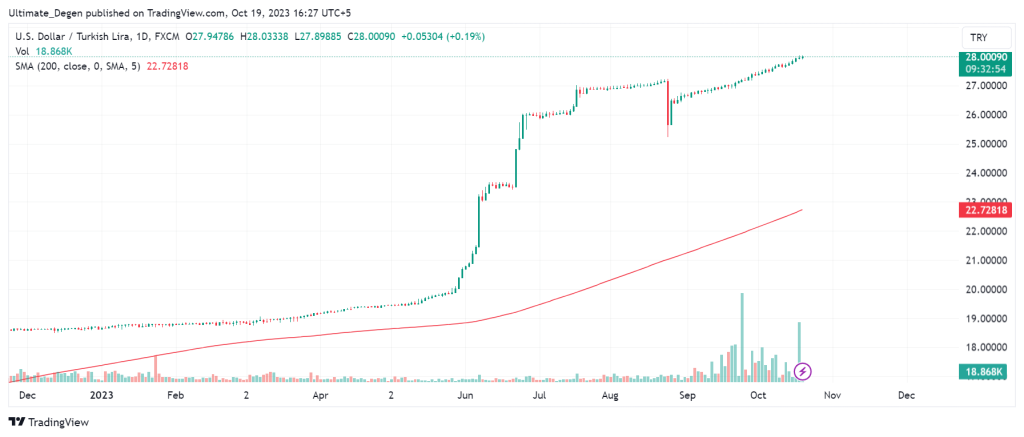 USD/TRY Technical Forecast
It appears as if nothing can stop the devaluation of the Turkish lira. The chart above shows a constant surge after a sharp drop in August. There are no clear technical levels on the chart as is keeps on soaring to new highs every week.
USD/TRY forecast of 30, which I made in June, could be realized soon if the fundamentals remain the same. The 1.618 fib retracement level which is around 28.42, could be the next possible bullish target for the forex pair.