The US dollar to Indian Rupee exchange rate remains range bound amid a volatile DXY index. USD/INR is showing minor gains on Tuesday in its London session. The recovery comes after two consecutive red days for the Forex pair, as the dollar started to show weakness last week.
USDINR is impacted by a lot of external and internal factors. In addition to the strength of the US dollar, global oil prices and the central bank's policies also affect the dollar to rupee parity. At the time of writing, the pair is trading at 83.209 after a recovery from the daily lows of 83.145.
The DXY index and the treasury bond yields started to crack last week as the US Fed took a dovish stance. This led to a strong rebound in the precious metals and strengthened other currencies against the US dollar. On a weekly timeframe, the Indian Rupee still fell by 0.16% against the greenback.
Side by side, global oil prices have also seen a sharp decline from the monthly highs. After a brief rebound at the start of the Israel-Hammas conflict, crude oil is once again trending lower. Since oil imports are a major chunk of the overall import bill of India, falling oil prices are acting as a tailwind for the INR.
There is also a persistent demand for the greenback in the Indian domestic market, which offsets the RBI's interventions. So far, the Reserve Bank of India has remained successful in keeping the current stability against the USD.
USD To INR Chart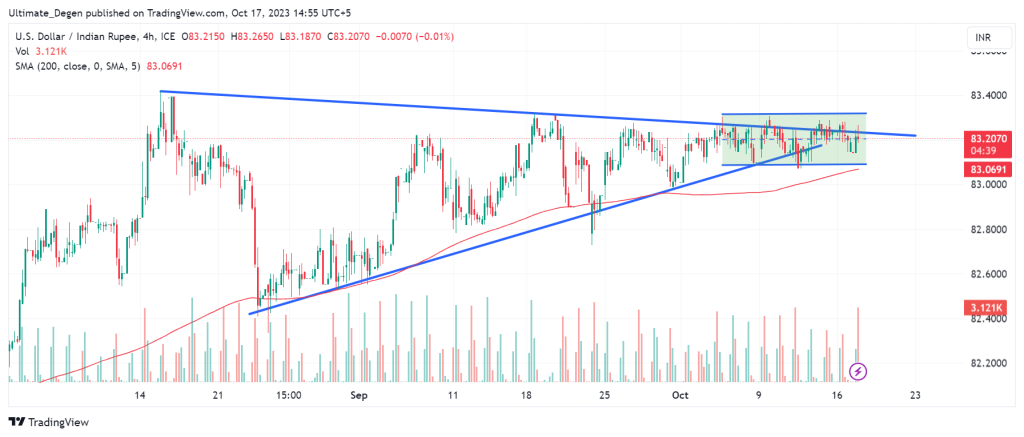 USD/INR Technical Analysis
USD to INR pair can be analyzed on both high and low timeframes. On a higher timeframe, there is a clear formation of a symmetrical triangle. However, on a lower timeframe, the price action is occurring in a narrow 83.09-83.32 range.
USD/INR may decline in the coming weeks if the dollar strength index faces a deeper correction. Analysts are already predicting the yields and the DXY index to have topped out for this cycle, but there is no bearish confirmation yet.