USD/INR has plunged to fresh monthly lows as the Indian rupee extended its gains on Tuesday. The US dollar to Indian rupee exchange rate is facing strong headwinds from the efforts of the Indian central bank to keep the rate stable.
On Tuesday, USDINR opened the day at 83.006 and tapped the lows of 82.973 as the day progressed. At press time, the pair was down 0.08% and the daily candle looked very bearish. This negative price action came on a day when the dollar strength index was up 0.56%.
Major global currencies including GBP, CAD and EUR tanked against the greenback today as the 10-year bond yield rebounded after two consecutive red days. This means that the INR also strengthened its position against GBP, CAD and EUR.
The Indian currency has remained resilient in the midst of elevated prices of crude oil and increasing geopolitical tensions. The reports from the previous quarters reveal how RBI has aggressively intervened in the market to keep USD/INR below the 83.3 level. This approach appears to be working as the bulls are losing steam. The current price action can also be attributed to RBI's probable interventions this week.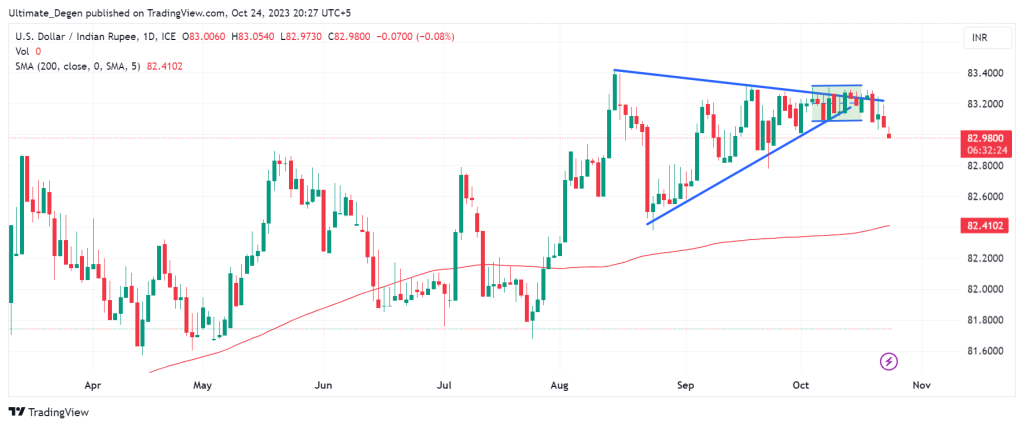 USD/INR Technical Outlook
USDINR has broken down from the symmetrical triangle pattern which I mentioned in my previous analysis. The technical target of this breakdown lies around 82 level. Just before this level there also lies the 200 MA. This key moving average may act as a dynamic support when the price hits it.
The USD/INR forecast is looking bearish after the recent breakdown. However, an unexpected surge in the DXY index may reverse the recent gains of the Indian rupee against the dollar. The Fed's tone in next week's FOMC meeting will be very critical in this regard.
I'll keep posting my forex and stock analysis on my Twitter, where you are welcome to follow me.