The Apple share price is down 1.70% on a day that has seen a bit of a selloff on tech stocks listed on the Nasdaq 100 index. This decline follows two days of gains on the stock but the price picture shows that the stock is starting to consolidate at the site where highs were seen on early January and early February.
Elon Musk's buying playbook into Twitter had set off a round of buying on tech stocks on Monday. However, this demand has dissipated. This new round of selling comes after a remarkable 11-day winning streak that came to an end on 30 March. On that day, the intraday violation of the 176.58 resistance suffered a lack of follow-through buying, resulting in a decline and stagnation around the 176.58 resistance mark.
Morgan Stanley bumped up its 12-month Apple stock price forecast to $210 on the back of a steller Q1 2022 performance. The company is set to report its 2nd fiscal quarter earnings on 28 April. The Q2 2021 quarter brought in $89.6 billion in revenue, a year-on-year increase of 54% over the same period in 2020. IPhone sales dominated revenue. Q1 2022 saw Apple top this figure, delivering $123.9 billion in revenue. Due to Apple's refusal to provide quarterly forward guidance since 2020, the expectations for the present quarter are unclear.
On a day that has seen very little in terms of fundamentals from the company, what is the prevailing Apple stock price forecast?
Apple Stock Price Forecast
Following the double successive penetration closes above the consolidation area's upper border, the breakout from the daily chart's bullish flag is on. However, the price move to the north has stalled at the 176.58 resistance line. The bulls need to force a break of this level to the upside for the measured move to continue, targeting its completion point above the 182.83 resistance mark (4 January 2022 high).
On the flip side, an extension of the intraday decline preserves the integrity of the 176.58 barrier and invalidates the pattern. The downside move towards the 167.69 support gains traction if the decline extends below the 1 April 2022 low at 171.94. The 162.70 support (28 January, 28 February and 4 March lows) forms an intervening barrier between the 167.69 pivot and the 157.18 support target (25 January low). Additional targets to the south at 151.74 and 147.46 only become valid if further price deterioration occurs. 
Apple: Daily Chart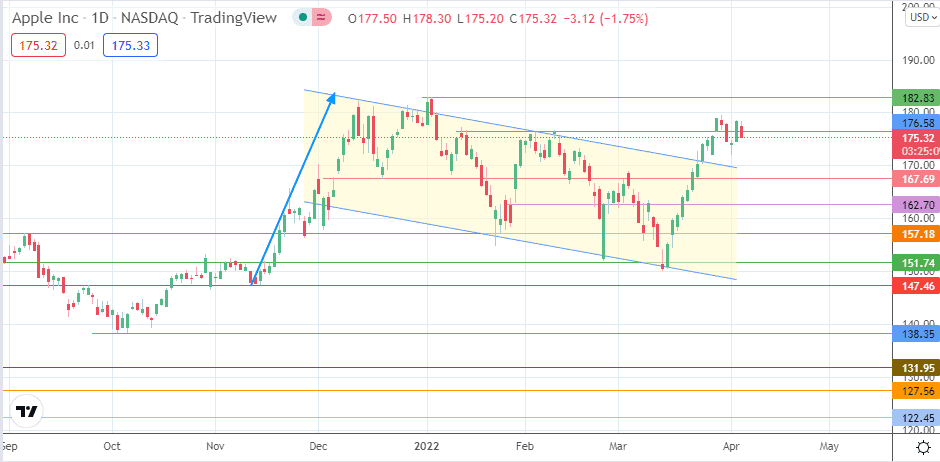 Follow Eno on Twitter.