After breaking out to the upside, the Uniswap price failed to launch, and now, UNI has pulled back to support, which could be a classic bullish set-up. Yesterday was a sea of green in crypto land. Bitcoin(BTC/USD) was back above $50k, Ethereum (ETH/USD) jumped to a three-month high, and altcoins were pumping again. This helped the Uniswap price to its best since the crypto crash in May. However, the rally faded, and by the end of the day, UNI was in the red by 5%. Furthermore, the weakness has carried over into today, forcing the price back to trend line support.
Automated market maker Uniswap (UNI/USD) is the most valuable decentralised finance (DeFi) token and the 11th-largest cryptocurrency, ahead of Chainlink (LINK/USD). Although, recently, the red-hot Defi investing boom has given way to Non-Fungible Tokens (NFT's) and layer-one protocols like Avalanche (AVAX/USD). As a result, Uniswap has been bouncing around in a narrowing, sideways channel for most of the month. That was, however, until Wednesday, when the price jumped 10%, bursting of its range. But in the last 24 hours, the token has dropped 12%, testing the trend line and the bull's resolve.
UNI/USD Price Forecast
The daily chart shows that the price was capped by a descending trend line from May's $48.12 high for most of August. Uniswap finally cleared the trend at $29.20 on Wednesday before extending to $32.36 the next day. However, the Uniswap price finished yesterday at $29.95, just above the trend, which now acts as support. Again this morning, the price is nestled against the support, now seen at $28.85.
Whilst this may be frustrating for the bulls, it's perfectly natural price action. If this retest of the trend is successful and the Uniswap price holds above $28.85, it will be extremely constructive. This would validate the breakout and suggest the UNI Token can resume the rally. In that event, a return to the May high looks possible. However, if the Uniswap price closes below $28.85 today, this would constitute a false breakout and likely lead to a test of horizontal support at $24.80.
Uniswap Price Chart (Daily)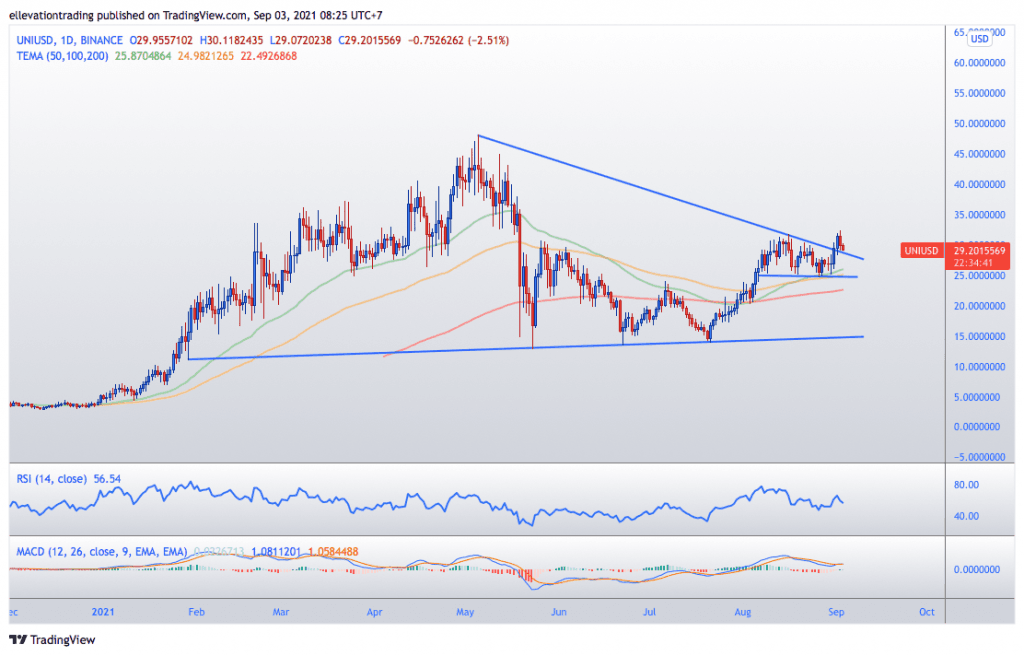 For more market insights, follow Elliott on Twitter.