The Uniswap price is pushing for an explosive impulse move higher as it aims to be the next altcoin targeting all-time highs. Uniswap (UNI/USD) is trading at $27.48 (+2.69%), around 17% higher in October and +420% year-to-date. Uniswap currently has a market cap of $16.8 billion and is the 13th-biggest cryptocurrency behind Shiba Inu Coin (SHIB/USD)
Decentralised crypto exchange (DEX) Uniswap is currently the 11th-largest Decentralised Finance (DeFi) Protocol with $5.2b in Total value Locked (TVL) assets. The UNI token has performed well recently and surged 60% from the September low as investors wagered that China's clampdown on cryptocurrencies would benefit decentralised exchanges. However, the Uniswap price hit a wall at trend line resistance on the 17th of October and has fought with it ever since. But despite the resistance, the price respects the key moving averages, suggesting it could soon breakout.
UNI Price Forecast
The daily chart shows a descending trend line from May's high, caps the Uniswap price at $27.70. However, the 100 and 200-day moving averages, at $24.78 and $26.17, respectively, offer robust support and counter the resistance. As long as the price stays above the moving averages, a break of trend should follow. Successful clearance should target the September high of $33.87, around 20% above the current price. Furthermore, considering the current euphoric sentiment surrounding altcoins, UNI could extend to the all-time high at $48.12.
Although the technicals support a bullish view, cryptos are highly unpredictable. Therefore, I am confident of Uniswap's prospects only above the 100-DMA. On that basis, a close below $24.78 invalidates the bullish thesis.
Uniswap Price Chart (Daily)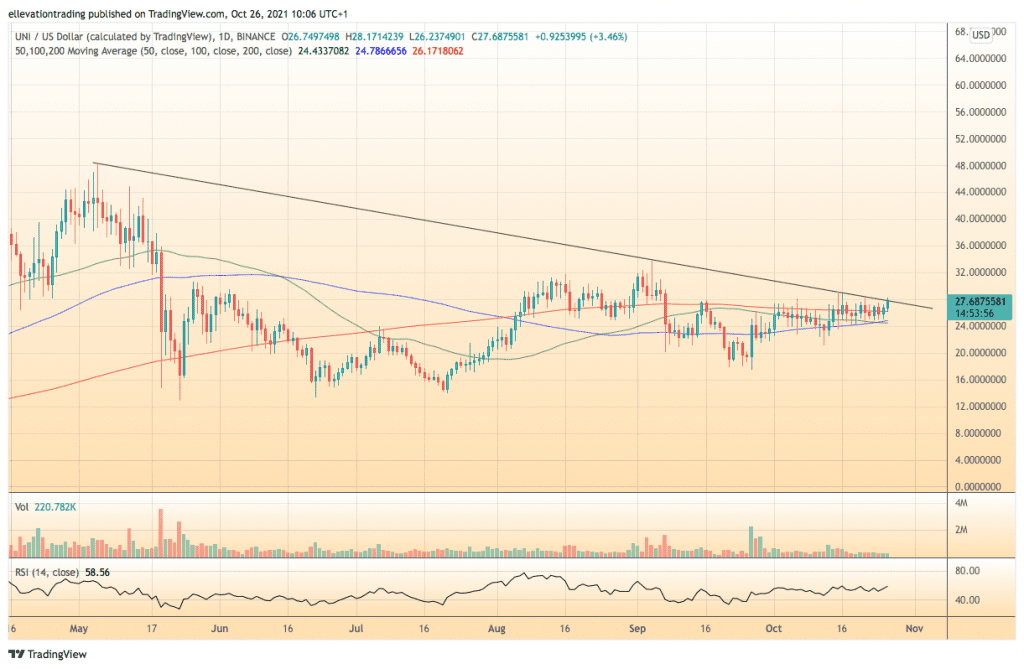 For more market insights, follow Elliott on Twitter.