The Twitter stock price jumped sharply on Tuesday after the company reached a deal with Elon Musk. The shares closed at $51.70, which is, surprisingly, lower than his offer price of $54.20. They are also about 30% below the all-time high of about $73. In addition, its market cap of $39 billion is even lower than the $44 billion that he offered.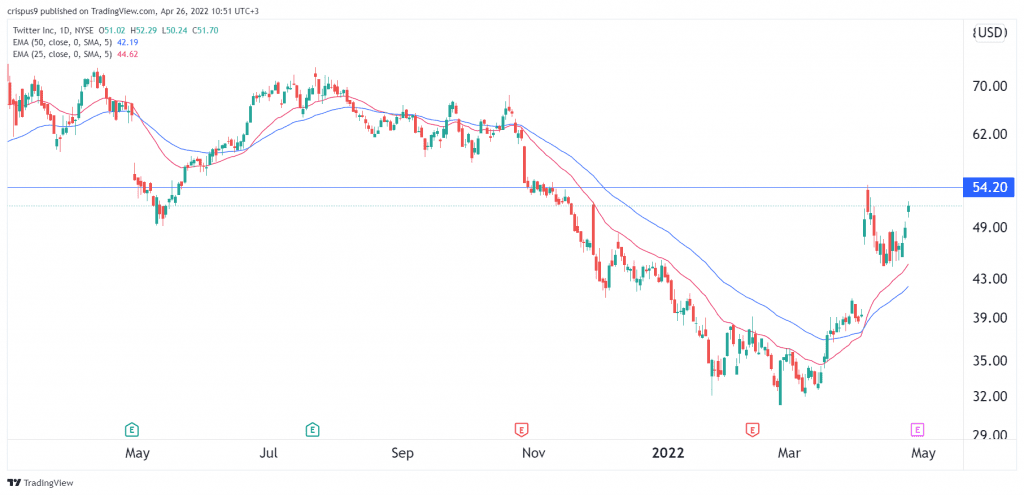 Elon Musk to acquire Twitter
Twitter has been in the spotlight in the past few weeks after Musk announced his decision to become the company's biggest shareholder. Shortly afterwards, the company decided to bring him to the board, an offer that he rejected. He then plans to take the company private in a $44 billion deal.
On Monday, Twitter and Elon Musk reached a deal that will take the company private. Analysts believe that the company will agree to a deal before Thursday, when it is expected to deliver substantially weak quarterly results.
There are concerns about the deal closing even though Musk has organised his financing. This explains why the stock is still trading significantly below his offer price. Also, there is still a lack of clarity about whether the deal has a go-shop period, where it can find other suitors. Still, at a valuation of over $44 billion, it will be difficult to find another buyer considering that Twitter's business is not all that good.
So, is Twitter still a good buy?
As a standalone business, Twitter is not a good business considering that there is rising competition from the likes of Snap and TikTok. In addition, its advertising business is also not all that strong. This explains why the stock was spiralling before the acquisition offer was made.
Twitter has become a great arbitrage opportunity considering that the shares are trading below its acquisition price. If the deal closes, anyone who buys at the current price will be in the money. However, if the deal fails, which is highly unlikely, there is a likelihood that the Twitter stock price will drop sharply.