The Theta price prediction outlook got a slight boost after the crypto market staged a mild recovery this Friday. The THETA/USDT pair was not left out, and after a test of previous support, the price got a slight boost to the upside. However, the price action is still in a bearish trend, and it could take a while for the bulls to initiate any recovery in the short term.
Theta Labs is making some ambitious plays in the NFT and Metaverse. It has launched an NFT marketplace known as ThetaDrop. Also, it has initiated a video-streaming service known as THETA.Tv, which will focus on esports as well.
Theta's Metaverse playbook is to establish itself as a video streaming technology within the virtual space. This is an emerging space with a market worth $70.85 billion currently. Furthermore, that market has the potential to hit $116bn in 2026, according to data from Statista. That is a CAGR of 10.36% within the next 5 years.
Theta aims to have five product streams in this area: video-based NFTs, decentralized video distribution, a proprietary video API, the Theta EdgeStore and ThetaPass, the NFT virtual ticketing service. These are expected to give Theta Labs a huge imprint in the metaverse in the months and years to come.
However, the market's focus in the short term revolves around the current geopolitical events, which makes the journey of recovery for Theta a long and hard one. The THETA/USDT pair is up 5.2% as of writing.
Theta Price Prediction Outlook
Following the symmetrical triangle breakdown and completion of the measured move at the 2.342 support level, the Theta price action retested that level on Friday with a resultant bounce. This bounce requires additional bullish momentum to take on the 3.122 resistance. If this bounce surmounts this barrier, 3.96 and 4.720 become the new targets to the north.
Conversely, a lack of bullish momentum could allow the bears to push for another test of the 2.342 support. If it breaches this level, 1.632 becomes the new downside target. The highs of late 2020 at 0.603 constitute another target to the south if price deterioration continues.
THETA/USDT: Daily Chart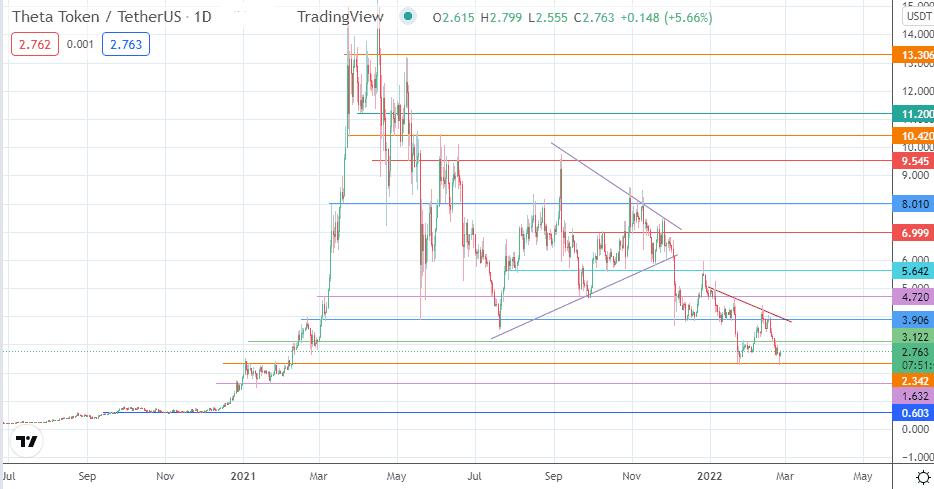 Follow Eno on Twitter.