The THETA price is grappling with the 200-day moving average at $7.46 this morning as bulls push for another run at the elusive $10.00 level. THETA (THETA/USD) is trading at $7.25 (+3.27%), +43% in October, and +288% year-to-date. The video streaming network has a market cap of $7.25 billion, and is currently the 31st most valuable cryptocurrency project, behind TRON (TRX/USD).
Similar to many altcoins, THETA's native token has performed well over the last week. However, unlike some that have marched to new records, the THETA price is around 25% below September's high, and -56% from May's $16.61 all-time high. Nonetheless, several positive developments have emerged since the 22nd of October.
Price Analysis
THETA has cleared the trend line resistance at $6.32, hurdling the 50, and 100-day moving averages (DMA's) in the process. Furthermore, the 200-DMA at $7.46 could be the next domino to fall. Successful clearance of the long-term indicator on a closing basis would undoubtedly attract momentum buying. A logical target on the upside is the September high of $9.81, followed by the June top at $10.58. The Relative Strength Index (RSI) is trending higher and last at 63.45. Although the RSI is close to overbought, altcoins typically overshoot and therefore, I consider the indicator constructive. However, a quick look at the trading volume highlights the lack of participation. Nonetheless, on balance, the overall picture supports a bullish breakout.
The optimistic view does come with caveats. The bullish outlook relies on the THETA price remaining above the 50, and 100-DMA and the descending trendline. Therefore, if THETA closes below the trend, now at $5.94, it invalidates the bullish view.
THETA Price Chart (Daily)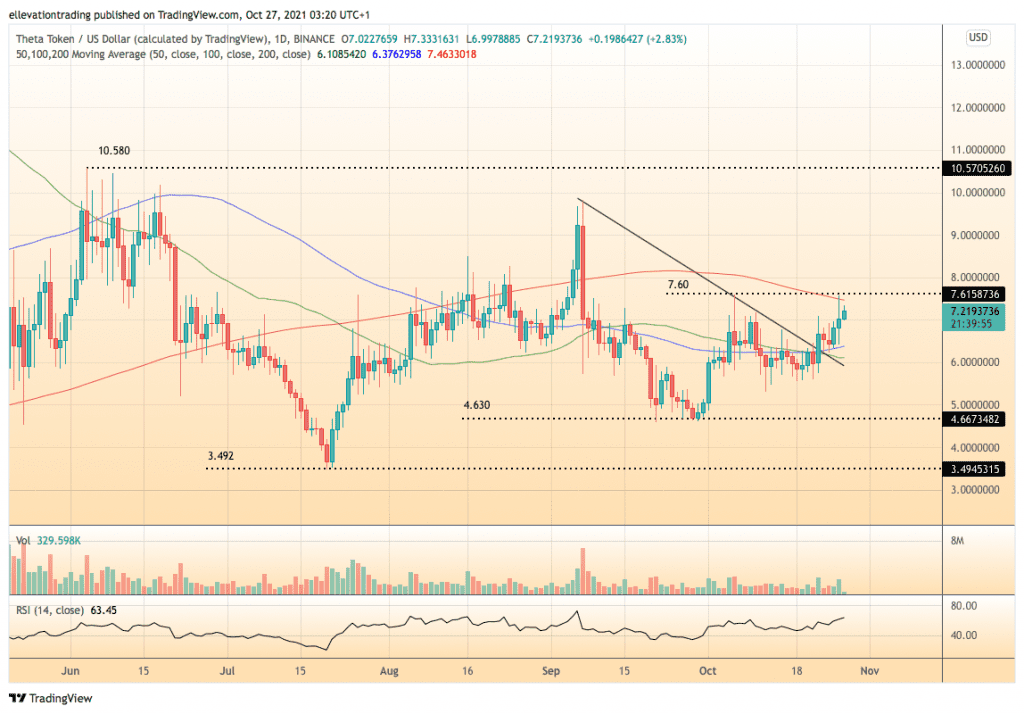 For more market insights, follow Elliott on Twitter.