The THETA price has lost a third of its value in the last seven days and could halve from here unless sentiment improves quickly.
The THETA token has underperformed for the last eight months. Despite bouncing 30% from Saturday's crash low, the video-streaming protocol is down over 72% from the May all-time high of $16.610. In that time, THETA's market cap has fallen from $15 billion to around $4.7b at the current price of $4.670 (-0.40%). As a result, the token now ranks as the 40th most-valuable cryptocurrency behind The Sandbox.
Like most altcoins, the recent weakness follows Bitcoin's sudden plunge to $42k over the weekend. However, the market leader bounced back to $52k on Monday but failed to reclaim its uptrend and since rolled over. Subsequently, the Theta price-action has turned negative, which in m opinion, could spell disaster.
Technical Analysis
The daily chart shows THETA is clinging to horizontal support at $4.693. If the token fails to maintain the horizontal support on a closing basis, an extension towards Saturday's $3.567 low is likely. Furthermore, continued weakness from Bitcoin (last at $50,400) could trigger a meltdown to the February low at $2.600
Although the above scenario is pessimistic when considering the current momentum, it's more than possible. Furthermore, I think it's probable as long as THETA remains below the 200-Day Moving Average at $6.650.
THETA Price Chart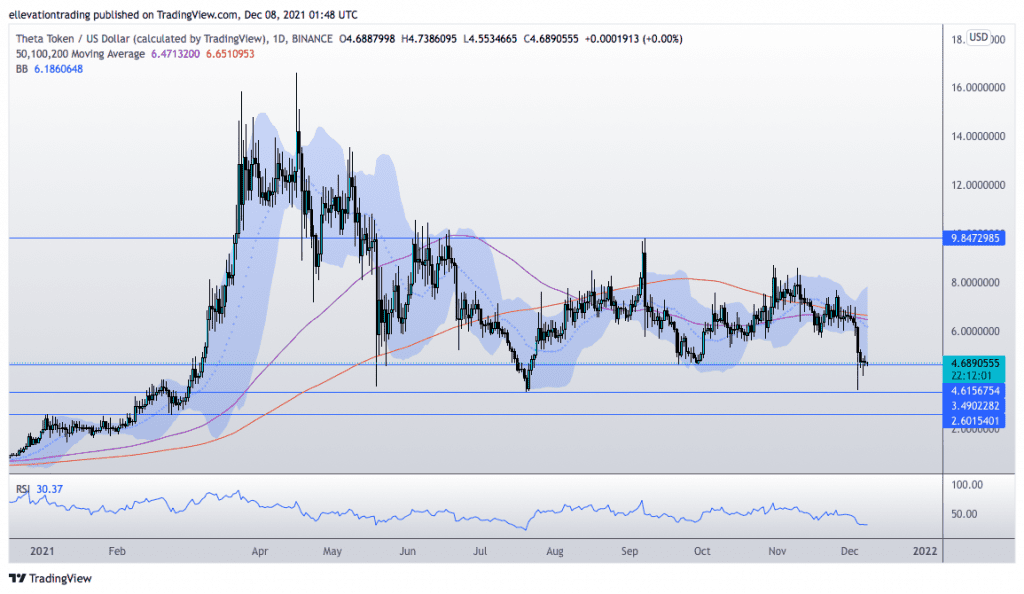 For more market insights, follow Elliott on Twitter.