Although the Solana price bounced 30% from the weekend lows, in my view, it's too early to call it a comeback.
Solana (SOL) is responding to Bitcoin's recovery above $50k and is slightly firmer at $196.50 (+1.35%) in early trading on Tuesday. Like most altcoins, the SOL token succumbed to heavy selling on Saturday as Bitcoin's sudden plunge to $42k triggered broad-based liquidations across the cryptocurrency complex. However, BTC has since reversed most of the decline, climbing back to $51k this morning (+4.00%), enticing capital back into altcoins. Subsequently, Solana's market cap has climbed back above $60 billion, cementing its place as the 5th largest cryptocurrency.
While the recent bounce is constructive, it's also typical following a sudden liquidation-driven crash. When the price turns against over-leveraged longs, it often over-extends on the downside as stop-loss orders are triggered. Once longs are out, the natural reaction is for the market to move higher. As it does, liquidated longs chase the market higher, hoping to recover their losses. In this event, the price often over-extends on the upside before reversing (dead-cat bounce).
In my opinion, it's too early to know if the cryptocurrency market has recovered from the destructive price action on Saturday. The rebound may be a reactive bounce from the oversold conditions. Therefore, volatility may lie in store for the Solana price this week.
SOL PriceAnalysis
The daily chart shows SOL has recaptured the rising trend support at $192.0. However, the rally lacks conviction and is struggling to clear $200 convincingly.
The danger for the bulls is if the price fails to close above the trend in today's sessions. In that event, sellers may force the price below the 100-DMA at $182.80, triggering a second, more violent wave of liquidations, targeting the $125-$150 range.
For now, SOL is above the trend, which is undoubtedly positive. But, in my opinion, the Solana price is vulnerable below $192.0. However, if SOL ends the day above $192.0, the immediate prospects improve.
Solana Price Chart (Daily)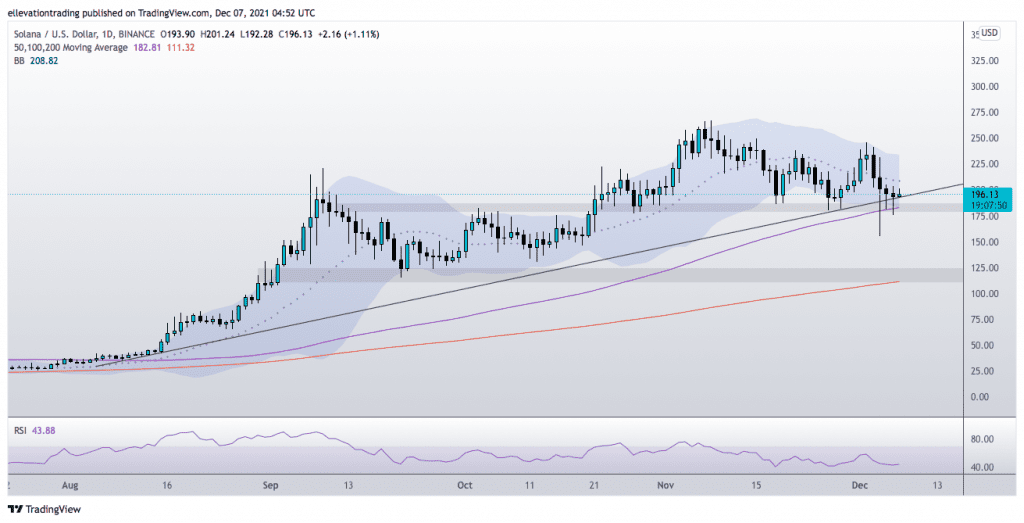 For more market insights, follow Elliott on Twitter.